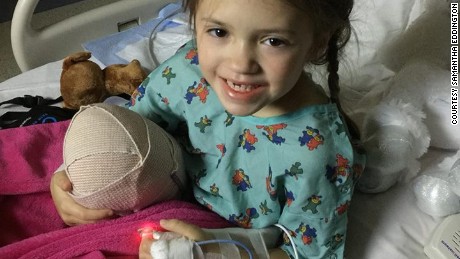 (CNN)7-year-old Katie Eddington loves swimming, running, basketball and soccer. Her favorite animal is a horse. Her favorite flavor of ice cream is chocolate.
By all accounts, Katie is a normal little girl. But Katie has a superpower: She has a special leg.
The accident
Katie was injured in a lawnmower accident in October 2013.
"I had just left to go to work," said Katie's mother, Samanatha Eddington. "My husband (Russell Eddington) was finishing mowing the yard."
Katie, 4 at the time, was in the house initially, but she went outside.
"She slipped and fell on the grass," Eddington said.
Russell never saw her. He ran over her right leg.
"The majority of the injury was right at and just above the knee," Eddington said. "She lost some muscle and some bone."
Katie endured 16 surgeries in the first 30 days after the accident.
Read more: http://www.cnn.com/2016/07/05/health/katie-eddington-amputee-runs-5k-trnd/index.html