George A Hormel introduced spiced meat in a can to post-depression America in July 1937. The smell of slaughtered pigs still pervades this Minnesota city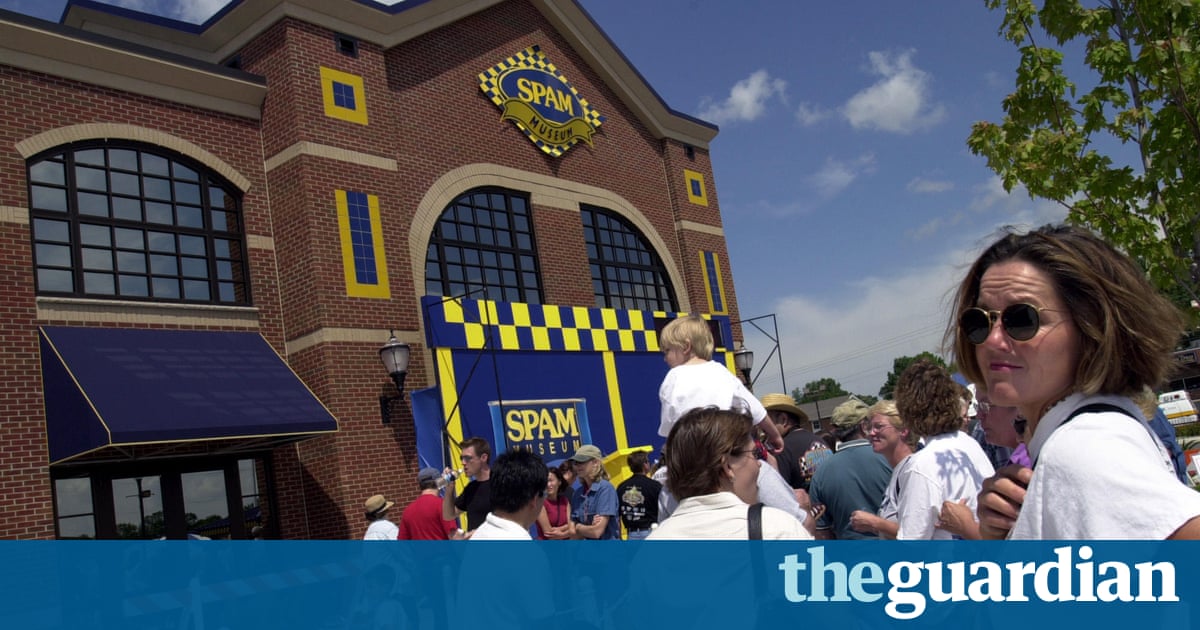 Americas other Austin isnt an artistic hub, but a meat-processing one. This small midwest city of 25,000, around 100 miles south of Minneapolis, is famous as the home of Spam. Eighty years ago this week, George A Hormel & Company whose plant still hulks on the rivers east side introduced its spiced meat in a can for a post-depression American eager to eat on the cheap.
The meat of many uses went on to sell to roughly 30% of all US households, keep GIs on their feet and allegedly help win the second world war, as well as being immortalised by a certain British comedy sketch troupe.
The pink paste has also been an uncanny barometer of American labour relations: the company brought in pioneering salary packages that anticipated New Deal benevolence and became embroiled in a bitter 1980s strike that caught national attention and ushered in the era of inequality.
Canned heat
Spam-related celebrations are already under way, centred around the Spam Museum that has just been moved on to Main Street just south of Mill Pond. The anniversary follows hard on Hormels 125th birthday last year.
But even those not involved in the festivities know all about the companys presence in the city, says 26-year-old Michael Keeley, sportscaster for the local ice-hockey team the Austin Bruins: The plant drives 90% of the economy here. You come across five people in Austin, and probably three or four will work at Hormel. The spirit of Spam is literally in the air: On certain days theres a distinct smell coming from the plant. Not to sound morbid, but its the pigs being slaughtered.
Some people think the company, following industrial action in 1985 in which 80% of the strikers were laid off, has had a divisive effect on the town; cheap immigrant labour has since been brought in to replace them. Whats certain is that Hormel and the meatpacking industry has permanently shifted the demographics in Austin: 15.4% of the population in 2010 were Hispanic, more than double 10 years previously.
Austin in numbers
5m Pigs slaughtered a year by QPP, who now perform processing operations for Hormel Foods.
1928 Year in which Hormel stock was first traded on the American stock exchange.
1 Ranking of the Mayo Clinic (which has a branch in Austin and is based in nearby Rochester) in the US News & World Reports list of the countrys best hospitals.
15,727 Projected crime rate per 100,000 people in 2012. Austins remains high, more than twice the state capital St Paul. Maybe people think that if theyre in a smaller town, theyll be able to hide more or they wont get caught, says Keeley.
$3bn Sales of the American football videogame series endorsed by NFL commentator John Madden, who was born in the city.
and pictures
Watch Austin grow in postcards from early 20th-century Main Street bustle to postwar drive-in motels.
History in 100 words
New Yorker Austin R Nichols drawn by the rich trapping in the newly defined territory of Minnesota built the first log cabin in the area in 1853. Three years later he had moved on, but a settlement named after him had begun to coalesce on the spot with its own hotel and physician. Growth was slow during much of the 19th-century, mostly dependent on Cedar river mills handling lumber and flour. But the arrival of former Chicago meatpacker and compulsive gambler George Hormel in 1887 transformed the town, which then numbered only 3,000. His wholesale butchers operation made its name with superior-quality sausage reflecting his German heritage that financed expansion into the industrial foodstuffs on which this 20th-century corporate behemoth was nourished: the first canned ham, then later Hormel Chili and Spam. The progressive-minded Jay Hormel also opened the pioneering Hormel Institute, a world-class cancer research facility, in 1942.
Austin in sound and vision
The plains of south Minnesota, a strange, dull in-between, have helped sculpt the airy synth hymns of John Maus, sometime keyboard player for Ariel Pink and Panda Bear.
Barbara Kopples Oscar-winning 1990 documentary American Dream chronicled Hormels hardball tactics during the 13-month P-9 strike.
What everybodys talking about
The recent resurgence in meth busts in Austin seizures rose from 1,600g in 2014 to 21,037g in 2015, and one woman on 10th Street Northeast was found in January with 1,545g, probably the biggest in the citys history. Homemade meth labs are no longer a major factor, with the Mexican cartels providing the bulk of US supply since the early noughties. South Minnesota, on the intersection of interstates 90 and 35, is on the crossroads for drug-trafficking – heroin also comes down from Chicago.
Whats next for the city?
Keeley says that if Bruins attendance is anything to go by, then Austin will be alright: People are very supportive of us, and I see that as a microcosm for the town as a whole. The Hormel Institute has recently doubled the size of its research facilities, and a new 82,000 sq ft Hy-Vee supermarket is due to open on the site of the defunct Oak Park Mall (partly financed by a Hormel grant). The Spam Museum is coming on board as a Bruins sponsor. Youll probably spot a recurring theme here. As long as Hormel is doing its thing, the town is going to thrive, says Keeley. Perhaps Monty Python put the towns economic strategy most succinctly.
Close zoom
The Austin Daily Herald is prepared to dig more judiciously into the history of the town including the legacy of the P-9 strike more than youd expect a local newspaper presumably quite dependent on Hormel advertising might do. Not as thoroughly as this top-notch Mother Jones investigation into Austin meatpacking and a strange neurological complaint apparently caused by barf! inhaling vaporised pig brains for years on end.
Follow Guardian Cities on Twitter and Facebook to join the discussion, and explore our archive here
Read more: https://www.theguardian.com/cities/2017/jul/10/austin-minnesota-spotlight-home-spam-80th-birthday