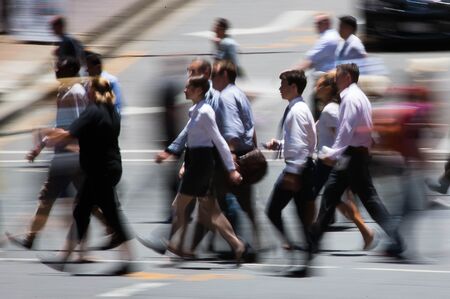 Australias labor-market slack deepened in October as the participation rate slumped to the weakest level in a decade, reinforcing a lack of inflation highlighted by record-low wage gains.
The data represent a conundrum for a central bank trying to look through weak price pressures and focus instead on the headline rates of unemployment and economic growth to justify leaving interest rates unchanged at 1.5 percent.
Key Points
Employment rose 9,800 from September, when it dropped a revised 29,000; economists forecast a 16,000 gain in October
The jobless rate held at 5.6 percent; economists forecast 5.7 percent
Full-time jobs jumped by 41,500, rebounding from a 74,300 plunge in September; part-time employment fell by 31,700
Participation rate was unchanged from a revised 64.4 percent; economists predicted 64.6 percent
The Australian dollar bought 74.78 U.S. cents at 12:44 p.m. in Sydney from 74.90 cents before the report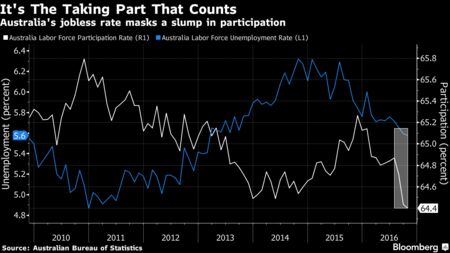 Big Picture
Australias labor market has suffered a slump in participation this year, signaling more spare capacity than improved hiring and unemployment data suggest. The central bank, meanwhile, has cited the jobless rate and solid economic growth — although largely fueled by population gains and surging resource exports — as reasons for optimism on the outlook. Its essentially waiting to see which way the economy breaks, particularly after a rebound in commodity prices thats injecting additional cash.
Economist Takeaways

* The bottom-line is that there will be no change in interest rates anytime soon, said Craig James, a senior economist at the securities unit of Commonwealth Bank of Australia. The economy softened mid-year due to Brexit and the federal election. And recently there was caution ahead of the U.S. election.
* Sizeable revisions to Septembers figures meant that the annual rate of employment growth fell to a two-year low of 0.9 percent year-on-year, said Kate Hickie, an assistant economist at Capital Economics. This will do little to allay growing concerns about the health of the labor market.
Other Details
At a state and territory level, unemployment either held steady or fell everywhere except Western Australia, the center of the nations mining boom thats been hit hard by falling resource investment. Central bank Governor Philip Lowe says the boom is now 80 percent unwound, so the drag on the state should ease.
Unemployment fell to 5.8 percent from 6.2 percent in Queensland, heartland of the nations coal industry thats enjoying a price bonanza; the state is also heavily geared to tourism thats booming amid a weaker currency
The southeastern state of Victoria added the most jobs in October with 20,500. The state, which is recording the countrys fastest population growth, also saw the biggest gains over the past six months
Read more: http://www.bloomberg.com/news/articles/2016-11-17/australia-employment-rises-in-october-as-full-time-jobs-rebound