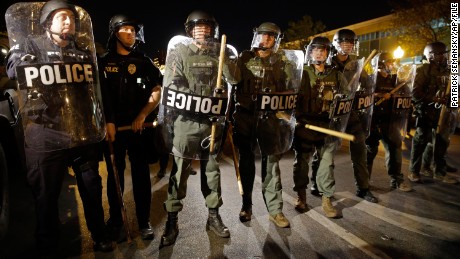 Baltimore (CNN)It took the Justice Department 164 pages to chronicle what Baltimore resident Alethea Booze said she has known all her life: Officers routinely abuse the city's majority African-American community.
"I've seen them search the fellows," Booze, 72, who lives a few doors from where
Freddie Gray
was arrested before his eventual death in police custody, said of the cops.
"I've seen them push them down. It can be 10, 20 degrees and they will make them sit on that sidewalk. They will pull their pants down and they don't care if you was outside, if I'm outside, kids outside. … I would say that's not right. You shouldn't do that and they tell me, if I don't shut up, they will lock me up."
"I will say there are plenty of cops who do an incredibly decent job in this city, but the amount of officers who walk around on a daily basis just disrespecting and treating people … like they are not human beings is incredible to me," said Deborah Levi, a Baltimore public defender.
The Department of Justice monitored the department's policing methods for more than a year after the 2015 death of Gray, who suffered a fatal injury while being transported in a police van.
'You can't trust them'
Booze remembered Gray's screams, his unheeded pleas for medical attention during his arrest.
Jackson said police would stop him about three times a week.
"They want to take you to the side and look up in your privates," he said.
"That's degrading when you are out on the street. They will say something derogatory when they leave."
The DOJ report said the department's "zero tolerance" strategy, which started in the early 2000s, encouraged discretionary enforcement, including stops, searches and arrests for misdemeanor offenses like loitering and disorderly conduct.
Lives ruined
"This enforcement strategy focused on African-Americans and predominantly African-American neighborhoods for discretionary enforcement actions, and it led to officers frequently stopping, searching and arresting individuals without the required constitutional justification," the report said.
"We also found evidence of officers using racial slurs or making other statements exhibiting bias … against African-Americans."
Jackson said he was often arrested after being found with empty bags of marijuana or cocaine vials. He would be booked for possession of drug paraphernalia and sit in jail for weeks before the charges were dropped in court.
Being black made you a target, Jackson said.
"They feel you don't look right, you don't walk right, you don't look like you belong in this area, you get stopped," he said.
Levi, the public defender, said city jails are filled with those whose lives have been ruined, in part, by Baltimore policing.
"They lose everything while they are sitting in jail," she said.
"They lose any assisted housing that they have. They lose any stability, their children lose any sense of stability. They lose the clothes off of their back. They come out of jail with literally nothing … and it trickles down to the smallest members of their family and the oldest."
Read more: http://www.cnn.com/2016/08/11/us/baltimore-residents-doj-report/index.html