Former president avoids mentioning Donald Trump as he implores Republicans to speak the truth even against their own party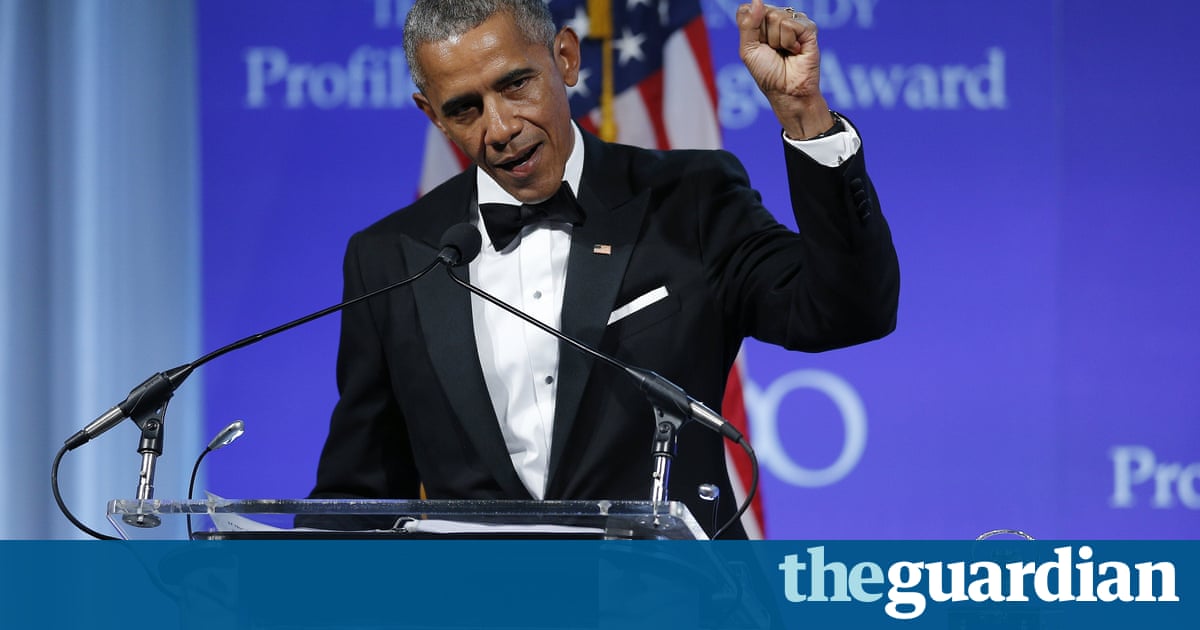 For the first time since leaving office, President Barack Obama has addressed his landmark healthcare legislation in a speech, reminding supporters of the courage and integrity of junior congressmen that it took to pass the bill.
Speaking at the John F Kennedy Presidential Library and Museum in Boston on Sunday night, where he was given the Profiles of Courage award, he said: Because of that vote, 20 million people got healthcare who didnt have it before.
And most of [the congressmen who voted for it] did lose their seats. But they were true to what President Kennedy defined in his book desire to maintain integrity that is stronger than the desire to maintain office the faith that the right course will be vindicated. Personal sacrifice.
It is my fervent hope and the hope of millions … such courage is still possible, that todays members of Congress regardless of party are willing to look at the facts and speak the truth, even when it contradicts party positions.
Obama spoke of what is at stake for the millions of Americans who stand to lose coverage if a repeal passes, without naming Donald Trump specifically.
And he implored members of Congress to demonstrate political courage even if it goes against their partys positions.
The former president focused much of his address on the legacy of Kennedy, as the library prepared to mark the 100th anniversary of his birth later this month. Obama noted the Kennedys had long advocated for healthcare reform, and in particular, the late Senator Edward Kennedy, who died of brain cancer before passage of the Affordable Care Act.

Obamas comments come a few days after the House squeaked through a partial repeal and replacement of Obamacare with a 217-212 vote, a long-promised goal of Republicans who have decried the bill since its passing.
The former president was awarded the Profiles of Courage by JFKs daughter Caroline Kennedy, a former ambassador to Japan, and her son Jack Schlossberg.
Schlossberg, 24, introduced Obama to the crowd of 700 people in a rare public speech. He said, My life changed in 2008 because a young candidate was fired up and ready to go, and he told me, Yes we can. Without Barack Obama, I might still be sitting on my couch, eating Doritos and watching baseball games. He cited Obamas policy choices on healthcare reform, nuclear disarmament and gun control as reason for why he deserves the award.
The John F Kennedy Library Foundation, a nonprofit organization, created the Profile in Courage Award in 1989 to honor President Kennedys commitment to public service. The award is named for Kennedys 1957 Pulitzer prize-winning book Profiles of Courage, which recounts the stories of US senators he believed risked their careers by taking principled stands for unpopular positions. This years event marks the 100th anniversary of Kennedys birth on 29 May, 1917.
Previous recipients include Presidents Gerald Ford and George HW Bush, US representative Gabrielle Giffords and US senator John McCain.
The foundation said of Obama, He picked up the rock from President Kennedy affirming our belief in an America that is more than a collection of red states and blue states, and reminding all of us that no matter what we look like, where we come from, or what faith we practice, we are our brothers and sisters keeper.
Democrat senator Edward Markey from Massachusetts did not mince his words on the red carpet outside of the event. The healthcare bill that passed in the House of Representatives is dead on arrival in the US Senate, he said.
It is cruel, the cuts to Medicaid to seniors and disabled, it will take people who need health insurance and make these families live lives of misery.
Congressman Joe Kennedy III said that Obama exemplified the values were here to celebrate, and how politicians on both sides of the aisle were inspired by his great-uncle who challenged his country.
Read more: https://www.theguardian.com/us-news/2017/may/08/barack-obama-urges-congress-to-find-political-courage-and-defend-his-healthcare-reforms