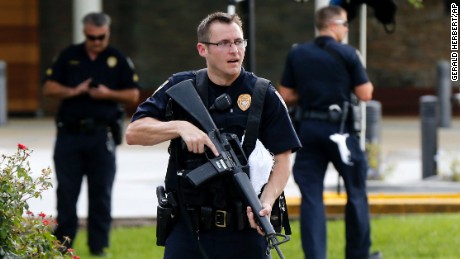 (CNN)In his memorial speech for the five Dallas police officers slain by a deranged shooter, President Barack Obama reminded the audience of the ways in which our nation's past has shaped the current crisis. "Centuries of racial discrimination — of slavery and subjugation and Jim Crow — they didn't simply vanish with the end of lawful segregation. They didn't just stop when Dr. King made a speech, or the Voting Rights Act and the Civil Rights Act were signed."
By linking the current racial conflict to the civil rights past, Obama reminded the nation that the hard choices we face now are ones that we have faced before.
When militarized policing combined with such intrusive, but routine, hyperpolicing policies as "stop and frisk," it made urban black communities feel as if they were occupied territories and that any typical encounter with police could be fraught with the threat of harassment and arrest.
The final match to this tinderbox was the proliferation of guns in America. In the 21st century, the nation has steadily advanced "open carry" gun laws and allowed the assault weapons ban to cease — and the result is predictable: more violence.
Where do we go from here?
After bearing witness to so many police shootings and now two recent shootings of police, we can no longer claim that these shootings are the errant result of an abhorrent police department or that violence ever advances social justice. Nor can we say that this carceral state was built solely by conservatives or liberals.
More importantly, we can't continue with business as usual, embracing law and order rhetoric that replaces poverty programs with
expensive punitive measures
. If we are to heal the racial divide, we need a new presidential-level commission that considers these overlapping problems of poverty, inequality, gun violence, public mental health, mass incarceration, hyperpolicing and militarization. But this time, we need more than a report.
No matter who wins the 2016 presidential race, Americans must demand from their politicians a renewed national political commitment, at both the state and federal level, to roll back the carceral state. Given the scale of the choice ahead, it is worth returning to the
Kerner Commission
's call for national truth and reconciliation: "This deepening racial division is not inevitable. The movement apart can be reversed. Choice is still possible. … From every American it will require new attitudes, new understanding and, above all, new will."
Read more: http://www.cnn.com/2016/07/21/opinions/law-order-racial-violence-chase/index.html