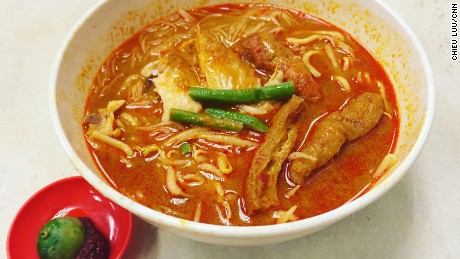 Kuala Lumpur, Malaysia (CNN)Malaysia's population is made up predominantly of ethnic Malays, Chinese and Indians — diverse cultures that each have unique cuisines.
It's no wonder the country is a food lover's paradise.
Street stalls, food courts and restaurants offer everything from barbecued skewers and grilled seafood to fried rice and piping hot bowls of noodles.
The capital, Kuala Lumpur, has some of the best fine dining establishments in Southeast Asia.
But just because something costs $2 doesn't mean it's not delicious.
Here are the unmissable dishes in KL that offer a true taste of the local flavors — and where to find them.
Chili pan mee at Restoran Super Kitchen
This authentically Chinese-Malaysian noodle dish is an explosion of textures and flavors that will leave you wanting a second — or third serving.
Soft, chewy noodles are topped with fried anchovy, deep fried onions, fresh scallions, crushed peanuts, shredded pork and a poached egg.
Diners can add as much dry chili as they like and use chopsticks to mix it all together, breaking the egg yolk and making a sauce that coats the noodles with the spices, peanuts and onions.
Where: Restoran Super Kitchen, 33, Jalan Dewan Sultan Sulaiman 1, off Jalan Tunku Abdul Rahman
Price: 7.50 Malaysian rupees (MYR) ($1.81) per bowl
Curry laksa at Kam Fatt
Laksa is a traditional Malaysian coconut noodle soup and nowhere does it better than Kam Fatt, an unassuming street side restaurant that's only open for breakfast and lunch.
Choices include egg noodles, flat rice noodles, vermicelli or a combination of two or three.
The noodles are smothered in a thick gravy and served with boiled Hainan-style chicken, fried tofu puffs, cockles, bean sprouts and green beans.
It's seasoned with a squeeze of fresh lime and extra chili sauce.
Mouths will tingle from the perfect balance of sweet, savory and spicy.
Where: Restoran Kam Fatt, 37, Jalan Tengkat Tongshin
Price: MYR6 per bowl
Banana leaf in Bangsar
Forget plates and utensils.
The authentic way to eat this traditional South Indian cuisine is with hands.
A set meal consists of rice, a crispy papadum and a choice of curries and chutney that are served on a banana leaf.
Diners can also choose to add chicken, beef, fish or vegetable curry and other dishes to round out their meal.
The meal is best ended with a banana or mango lassi, which is sweet and cooling and tempers down the heat of the spicy curry.
Where: Devis Corner, Nirvana or Raj's Banana Leaf — all in Bangsar
Price: From MYR7.50
Mr. Chiam's pisang goreng (fried banana) stall
Appam is a traditional Indian breakfast pancake made from fermented rice batter.
It's soft in the middle, crispy around the edges and usually served with a hefty dose of coconut milk, making it a warm, sludgy and absolutely delicious mess of a meal.
While Chelo's, which has been going strong for more than 20 years, features the classic version of this timeless staple, what takes our breath away is their riff on the dish, which sees the soft white center of the appam swimming in swirls of caramelized palm sugar.
The addition of the sugar doesn't just add a kick of sweetness, it also gives the light and airy dish a unique full-bodied texture.
Don't let its humble roadside location fool you — it's the best appam joint in town.
Where: Lorong Ara Kiri 3, Lucky Garden, Bangsar
Price: MYR1.50 per brown sugar appam
Read more: http://www.cnn.com/2016/10/02/foodanddrink/malaysia-kuala-lumpur-best-local-eats/index.html