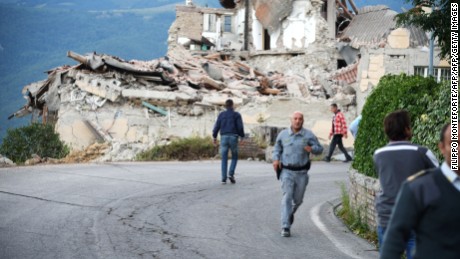 (CNN)Chefs in Italy and around the world are using their talents, and Amatrice's signature dish, to help raise money for earthquake victims.
Before Wednesday's
devastating, 6.2 magnitude earthquake
, the Italian town was best known for spaghetti all'Amatriciana, a tomato-based sauce that traditionally includes pork jowl, olive oil, white wine, chili and pecorino cheese.
More than 600 restaurants are putting the pasta dish on their menus and have pledged to donate 2 from each sale to the Italian Red Cross, according to Paul Bell, a Rome blogger who's helping organize the campaign.
"The idea is simply born from the desire to help those affected by the earthquake of this night," Bell said.
This year's festival, the 50th, was scheduled for this weekend.
Food as a way of recovery
It's not the first time chefs have rallied to help earthquake relief efforts.
In May 2012,
a pair of earthquakes
struck the Emilia-Romagna region, located in northern Italy. The earthquake badly damaged thousands of wheels of parmigiano reggiano cheese.
The dish became a widespread hit and transformed into a new national dish. Around Italy, eaters bought the damaged cheese and held Parmigiano Reggiano Night to help earthquake relief efforts.
Bottura told Saveur in 2014 that the dish turned "into an Emilian symbol of hope and recovery."
Read more: http://www.cnn.com/2016/08/24/europe/italy-quake-pasta-fundraiser/index.html