Police scour headquarters in effort to find suspicious person as demonstrators return to streets across the nation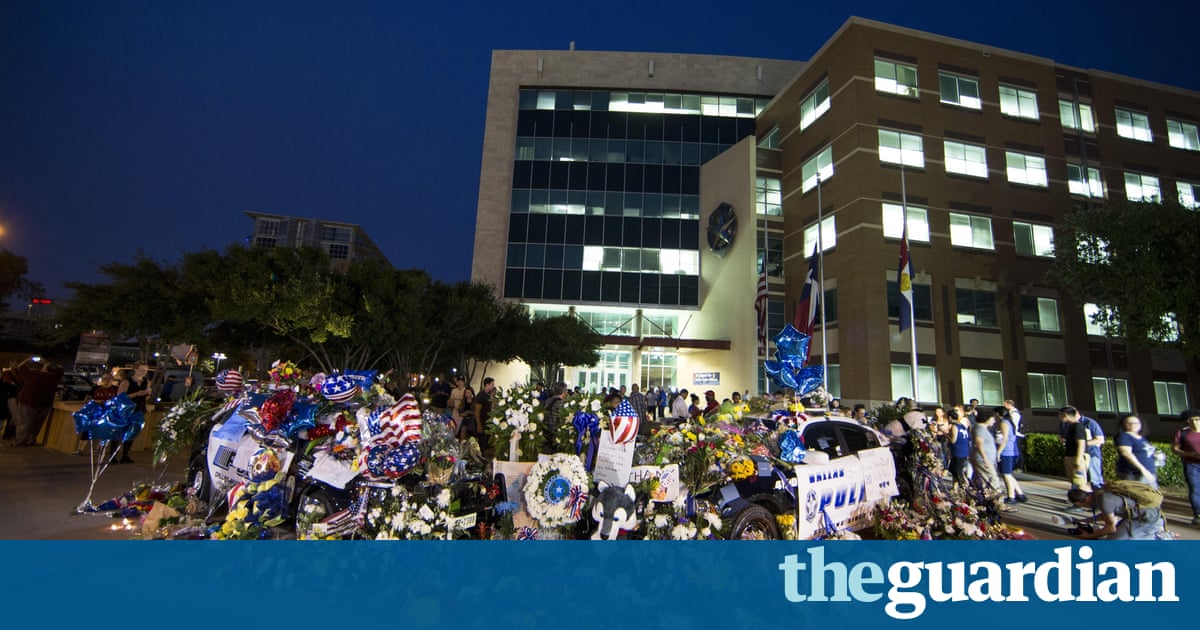 Dallas police searched in vain for a suspicious man spotted in its headquarters on Saturday evening amid fresh threats to the citys officers and renewed anti-police violence protests across the country.
Amid heightened security in Dallas, Swat team officers and dog units scoured a multi-level parking garage connected to the police forces building. An explosive device and a shotgun were used to gain entry to locked passages, according to police.
Shortly before 8pm it was announced no one had been located. Out of an abundance of caution, officers searched the garage to ensure reports of a suspicious person was thoroughly investigated, the department said on Twitter.
It was unclear whether officers planned to seek the man elsewhere or whether he was considered to pose any threat. Dallas police chief David Brown congratulated his officers on a great job.
The operation took place as renewed protests broke out in cities across the US against the perceived excessive use of deadly force by police against African Americans. Demonstrations were were given fresh impetus by the fatal shootings last week of black men in Louisiana and Minnesota.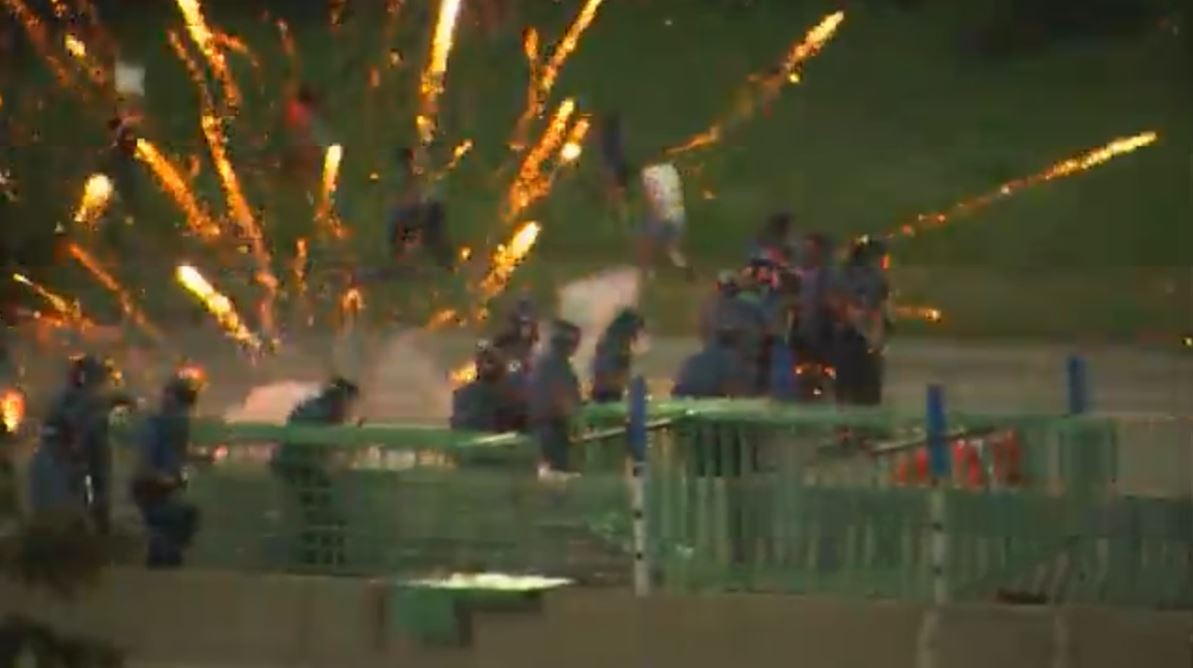 Demonstrators returned to the streets in Baton Rouge, Louisiana, where 37-year-old Alton Sterling was shot dead while pinned down during a struggle with two officers last Tuesday. On Saturday, demonstrators gathered outside the police department and the convenience store where Sterling was confronted by officers while selling CDs. About 30 people were arrested during tense protests in the city late on Friday into the early hours of Saturday.
In Chicago, hundreds of protesters marched and held a simulated die-in on the ground at the Taste of Chicago outdoor food festival, which they attempted to shut down. Marchers also took to the streets of downtown Indianapolis, where demonstrators remained silent as they walked with fists held high.
Meanwhile another Black Lives Matter demonstration hit the streets of Manhattan, where protesters marched down Fifth Avenue and gathered in Union Square Park.
In Dallas, officers were seen racing out of armoured vehicles with rifles earlier in the evening, and reporters and the public were instructed to move back from the department building, which appeared to be under lockdown.
Officers are searching the police parking garage for a suspicious person, the department said. Officers are conducting a systematic search of the parking lot … Officers are planning to breach a lock door in the garage with a shotgun.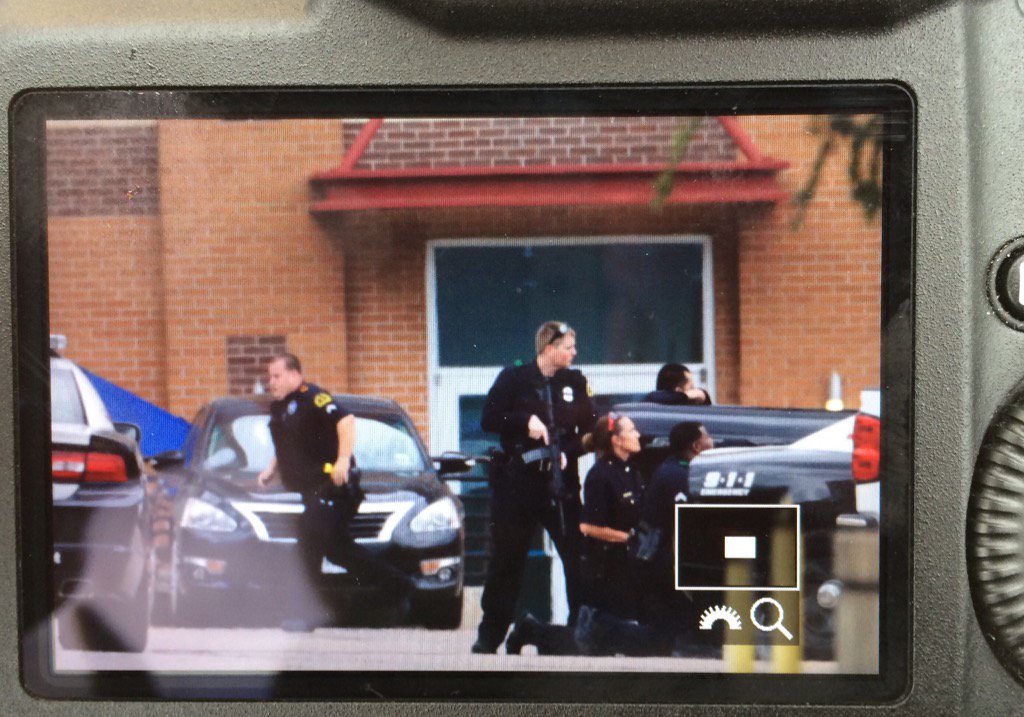 Local stations KTVT and WFAA both reported police sources had told them the man was dressed in black and appeared to flee after being confronted by a detective.
The developments came soon after the department issued a statement that a threat had been delivered against officers in the city, where five police officers were shot dead by a gunman at the end of a downtown protest last Thursday.
The Dallas police department received an anonymous threat against law enforcement across the city and has taken precautionary measures to heightened security, according to a written statement from police.
Local KTRK television reported the threat was linked to a group from Houston that was alleged to be driving to Dallas with the intent of killing more police officers. Police spokespeople declined to comment on the nature of the threat.
Police dismissed reports shots had been heard fired near the department headquarters earlier in the evening. Swat officers set off a device to enter a locked fence, officials said, appearing to explain a noise reporters said they had heard
Dozens of passersby and reporters were around the police department as the search operation developed. A memorial to the deceased officers, comprising flowers, cards and balloons, has built up around a pair of squad cars parked beside the building since Thursdays shootings.
Police instructed television media to stop showing live footage of officers movements and appeared increasingly irritated by their presence. Reporters putting out misinformation is making our jobs more difficult, the department said on Twitter. Officers are ordering reporter to move back because they are making it very difficult for them to do their jobs.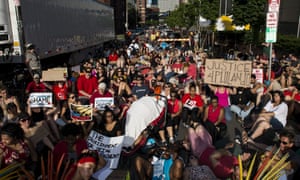 Read more: https://www.theguardian.com/us-news/2016/jul/10/dallas-police-search-headquarters-for-suspicious-man-amid-threats-to-officers