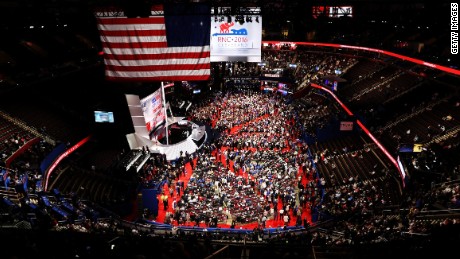 (CNN)The Republican Party gathered in Cleveland on Wednesday for the third night of its convention, and CNN's Reality Check Team put the speakers' statements and assertions to the test.
The team of reporters, researchers and editors across CNN listened throughout the speeches and selected key statements, rating them true; mostly true; true, but misleading; false; or it's complicated.
GOP vice presidential nominee Mike Pence
Reality Check: Pence on Obama's 'relentless mandates'
By Chip Grabow,, CNN
Pence criticized the Obama administration's use of executive orders. "We've seen relentless mandates from the executive branch. It seems no aspect of our lives is too small for the present administration to supervise, no provision of the Constitution too large for them to ignore," Pence said.
While Pence's meaning of the word "relentless" is open to interpretation, the implication was clear: President Barack Obama has issued an excessive number of executive orders.
So what is Obama's record of executive orders issued, and how does it compare with his modern-day predecessors?
President George W. Bush: 291 executive orders.
President Bill Clinton: 364 executive orders.
President George H.W. Bush: 166 executive orders.
President Ronald Reagan: 381 executive orders.
President Jimmy Carter: 320 executive orders.
And President Gerald Ford: 169 executive orders.
Taking the average of all those orders, the number is 276. At 244 orders, Obama could be said to have issued fewer orders than average among his co-horts of the past 40 years.
Pence's characterization of that number as "relentless" is in the eye of the beholder, but his implication is that Obama has issued an excessive number of orders.
Because the actual count of executive orders issued by Obama is not out of line with those issued by modern day presidents, we rate Pence's claim to be false.
It's also worth noting Gingrich on Tuesday evening
told an audience at The Union Club
in Cleveland that he would urge Trump, on his first day in office, to issue as many as 300 executive orders.
By the way, during his 12 years in office, President Franklin D. Roosevelt issued 3,728 executive orders.
Former House Speaker Newt Gingrich
Reality Check: Gingrich on administration lying about Iran nuclear deals
By Ryan Browne CNN National Security Producer
Gingrich lambasted the Obama administration's handling of the Iran nuclear deal negotiations, accusing the administration of lying about the Joint Comprehensive Plan of Agreement, the accord's official name.
"We know this administration and its allies lied to us about the Iran nuclear deal. We know it because they openly bragged about it to The New York Times," Gingrich said Wednesday night.
Gingrich is likely referring to the idea that the White House misled the American people over the timing of the Iran nuclear deal.
According to a
lengthy interview and profile
in The New York Times Magazine, White House Deputy National Security Adviser Ben Rhodes said that the administration had misrepresented when the deal had begun to be negotiated as part of an effort to create a narrative that tied the start of negotiations to the 2013 election of Iranian moderate Hassan Rouhani to the presidency.
Rhodes provides the story's author with a detailed walkthrough of the efforts to sell the deal to the American public.
The article described the narrative as "actively misleading, because the most meaningful part of the negotiations with Iran had begun in mid-2012, many months before Rouhani and the "moderate" camp were chosen in an election."
When then-State Department spokeswoman Victoria Nuland was asked if such negotiations were taking place in 2012, she denied the secret nuclear talks between the US and Iran.
After it was revealed in December 2013 that secret talks between the U.S. and Iran actually had taken place, then-spokeswoman Jen Psaki admitted the administration lied in order to protect the secret negotiations.
Rhodes took issue with the characterization in the Times article, saying in a post on Medium that "We never made any secret of our interest in pursuing a nuclear deal with Iran." While he acknowledged that negotiations had indeed begun in 2012, he added that "we did not have any serious prospect of reaching a nuclear deal until after the election of Hasan Rouhani in 2013."
The New York Times did not issue a retraction.
Because the administration did not initially acknowledge that negotiations had begun prior to 2013, even going as far as to deny their existence in 2012, and because Rhodes detailed the selling strategy to The New York Times, Gingrich's claim that the administration lied about the negotiations is accurate.
Therefore, we rate this claim to be true.
Texas Sen. Ted Cruz
Reality Check: Cruz on the Republican Party passing the Civil Rights Act
By Sonam Vashi, CNN
Cruz extolled the values and history of the Republican Party, saying, "Together, we passed the Civil Rights Act, and together, we fought to eliminate Jim Crow laws."
Oil production has slowed recently with the crash in oil prices, caused in part by excess supply in the U.S. and elsewhere. A number of factors influence oil production, including prices and technology, and it's difficult to predict the exact effects that certain policies have on oil production and prices. For example, as the US removed its 40-year-old ban on crude oil exports this year, the EIA
estimated
that US gas prices would be unchanged or only slightly reduced.
Obama's policies have neither encouraged nor discouraged oil production,
according to experts
. His administration has put
some restrictions
on fracking, but it has largely not blocked the growth of the technology — off which Hamm has made much of his fortune. We rate Hamm's claim that Obama "chose not to get" energy independence as
false
, because Obama presided over the largest oil boom in U.S. history, even as there are various causes for that boom.
It's also false to say Clinton wants to "eliminate fossil fuel development in America." While she has proposed cutting tax subsidies for oil and gas companies and reducing the amount of oil consumed in the US, she has also proposed switching from coal to natural gas (another fossil fuel), not eliminating development of fossil fuels altogether.
Small business owner Michelle Van Etten
Reality Check: Obamacare's effect on small businesses
By Tami Luhby, CNNMoney
Van Etten, a senior vice chairman marketing director for Youngevity, is representing small business owners at the GOP convention. She hit on Democrats for taking actions that she said were unfriendly to entrepreneurs.
She said the country needs a president "who will repeal Obamacare and allow small businesses to be able to provide health care for their employees again."
Even before Obamacare was passed, not that many small businesses offered health insurance. In 2009, 57% of businesses with three to 49 employees offered coverage in 2009, while 98% of firms employing at least 100 workers did, according to the 2015 Kaiser/HRET Survey of employer-sponsored health benefits.
Those figures haven't changed much. In 2015, 54% of the smallest businesses provided health insurance and 97% of large companies did.
Obamacare created the Small Business Health Options Program, known as SHOP, to encourage businesses with fewer than 50 workers to provide coverage. But very few companies and employees signed up, in part because the premiums were pricey and because small firms aren't required to offer insurance.
Looking at mid-size businesses, with 50 to 99 employees, some 89% offered coverage in 2015, down slightly from 92% in 2009. These firms aren't required to offer insurance until next year.
Small businesses are not now required to offer health insurance and they didn't universally do so prior to Obamacare. Because of this, we rate Van Etten's statement as false.
Read more: http://www.cnn.com/2016/07/20/politics/gop-convention-speeches-fact-check/index.html