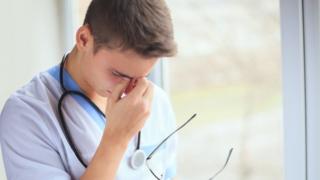 Poor morale among doctors could put patients at risk, the General Medical Council has warned.
The doctors' regulator said there was "a state of unease within the medical profession across the UK that risks affecting patients as well as doctors".
The warning is included in the GMC's annual report into the state of medical education and practice in the UK.
The Department of Health said listening to the concerns of staff was central to plans to improve services.
The GMC noted that following the anger and frustration of the dispute between junior doctors and the Department of Health, levels of alienation "should cause everyone to pause and reflect".
Its report also found that 582 fewer doctors had gone on to specialty training in 2015 following their two post-graduate foundation years, although a number take a break at this point to improve their skills either in the UK or abroad, or for personal reasons.
Most doctors planning to take a break (86.5%) gave work-life balance as the reason – of those, 47% cited burnout resulting from their clinical placements.
The GMC said this suggested significant pressure on junior doctors, but added that problems in the workforce were "complex and multi-factorial, and some are long standing".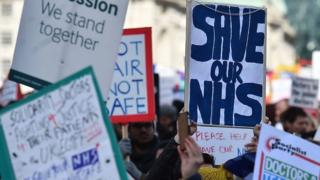 It criticised healthcare funding, saying that years of constraint coupled with social care pressures were leaving services struggling to cope with rising demand.
The BMA said: "Over the past year, junior doctors across the country have raised concerns about the reality of working in an overstretched health service and the impact that has on their morale and patient care."
NHS Employers said the report highlighted the need for skilled foreign workers in the NHS, adding: "We welcome the insight the report gives into the huge financial and service pressures the NHS is under."
A Department of Health spokesperson said: "The dedication and sheer hard work of our NHS doctors is absolutely crucial to delivering world-class care for patients.
"As the report makes clear, the standard of care provided by doctors working in the UK remains among the best in the world. 1.6 million more NHS operations now take place each year compared to 2010 and hundreds of thousands more people are seen in A&E within four hours.
"The government is investing 10bn to fund the NHS's own plan to transform services for the future – central to which is listening to the concerns of staff."
Read more: http://www.bbc.co.uk/news/health-37777679