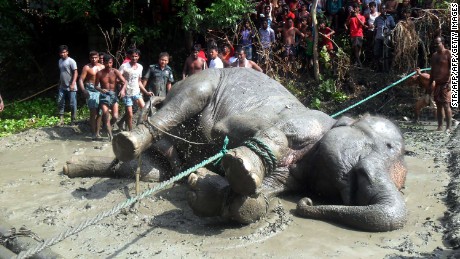 (CNN)It's said that elephants never forget — and one Indian mammoth swept by flood waters all the way to Bangladesh should have no trouble remembering this dramatic adventure.
The four-ton female was separated from its herd in floods in northeast India in late June.
It is thought to have traveled around 620 miles, a journey that included crossing the mighty Brahmaputra River, on its way to northern Bangladesh.
The animal first became separated from the herd in Assam, India. The weak and exhausted beast spent several weeks stranded in a flooded area and nearly drowned in a rescue attempt Thursday.
But Friday — World Elephant Day — the pachyderm finally set its feet back on dry land.
The animals are critically endangered in Bangladesh.
According to the charity Eleaid, there are as few as 196 elephants in the wild there, due to habitat loss and food scarcity. The country has about 100 in captivity.
By contrast, in India, there are about 24,000 wild elephants and 3,500 in captivity.
CNN's Omar Khan contributed to this report.
Read more: http://www.cnn.com/2016/08/12/asia/elephant-washed-from-india-to-bangladesh-by-floods/index.html