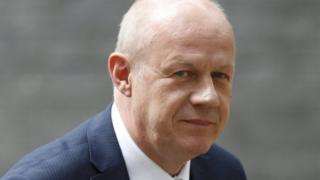 Sickness benefits claimants will no longer have to go through reassessments to keep their payments if they suffer from chronic illnesses, the work and pensions secretary is to announce.
The Employment Support Allowance (ESA) will continue automatically for those who have life-long, severe health conditions, Damian Green said.
He said it will help end the anxiety that claimants may have felt.
The reform will be unveiled at the Conservative Party conference.
The four-day gathering begins in Birmingham on Sunday.
'Unnecessary stress'
Applicants for ESA have to undergo a work capability assessment to find out if they are eligible and they are re-tested to ensure their condition has not changed – some after three months and others up to two years later.
Illnesses such as severe Huntingdon's, autism or a congenital heart condition, are among those that are likely to qualify for continuous payments without reassessment. The criteria will be drawn up with health professionals.
Mr Green said a "key part" of making sure those who are unable to work receive "full and proper support" includes "sweeping away any unnecessary stress and bureaucracy".
"If someone has a disease which can only get worse then it doesn't make sense to ask them to turn up for repeated appointments," he said.
"If their condition is not going to improve, it is not right to ask them to be tested time after time. So we will stop it."
BBC social affairs correspondent Michael Buchanan said the move is likely to benefit tens of thousands of people.
But ministers remain committed to a cut to be introduced next April in the amount of money that new recipients of one type of ESA will receive, our correspondent added.