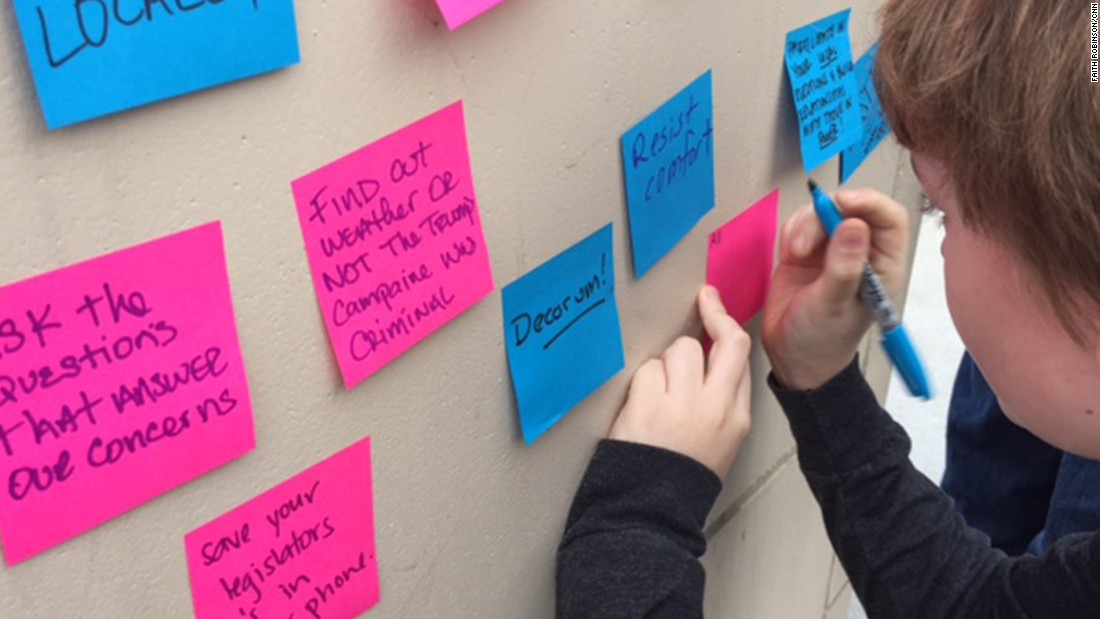 Atlanta (CNN)On a day of demands and protests, a couple taking part in the Atlanta women's march had an idea: They would create a wall full of solutions.
Dylan Stone-Miller and his girlfriend, Andrea McGrath, took dozens of pads of colorful sticky notes to the state Capitol, the destination of the Atlanta march. That's where they created their "solution wall."
On one side of the gray cement wall they encouraged people to post sticky notes with the issues that brought them to the march. They included funding for Planned Parenthood, affordable access to health care, discriminatory legislation, misogyny, racism and gun violence.
On the other side, people could post ways to resolve those issues.
Amid a montage of pink and blue sticky notes, 10-year-old Jacob wrote, "All people are equal and we should all stand together."
"Many of their ideas maybe very vague, (like) saying 'I'm here for women's rights,' and I would probe more on what specifically about the issue of women's rights are they worried," he said. "They may have felt that their rights were under siege in some way."
The project did generate ideas, among them: speaking to legislators, becoming a delegate, cultivating compassion, speaking up when someone's rights are in danger and better training for law enforcement.
"What we are doing now is mapping the issues, categorizing them and breaking them down into all of their components," Stone-Miller said. "From here, we will provide a resource for people to identify what cause they want to support."
Stone-Miller and McGrath said they hope to put that resource on a web-based app that will "provide personal, social, and political activism tools for individuals and groups."
Read more: http://www.cnn.com/2017/01/21/us/atlanta-womens-march-wall-of-solutions/index.html