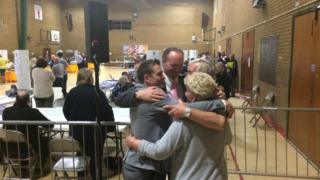 Leave have won the EU referendum campaign in Wales with all council areas declared.
Some 854,572 (52.5%) voters have chosen to leave the EU, compared to 772,347 (47.5%) supporting Remain.
The vast bulk of Wales' council areas, many of them Labour-supporting, have voted for Leave, with a majority in 17 backing Brexit.
The BBC forecasts that Leave has won across the UK, with the final result set to be declared in hours.
Welsh Labour In campaign manager Lord Hain said the Tories invited a kicking in the poll "and are being given it".
Only five areas – Gwynedd, Cardiff, Ceredigion, the Vale of Glamorgan and Monmouthshire – voted for Remain.
Live coverage of results and reaction in Wales
What happened in Wales' EU campaign?
The leader of the Welsh Conservatives, Andrew RT Davies, said there had been a collapse in the "Labour diktat" that operated in Wales.
Plaid Cymru leader Leanne Wood said it was a "wake-up call". UKIP AM Mark Reckless tweeted that it was "Independence Day".
Lord Hain said: "The strong Leave vote demonstrates the serious extent of left-behind alienation in Labour areas, at Wales' economic and social prospects and deep antagonism to the UK Tory government which invited a kicking in this referendum and are being given it".
Labour Welsh health secretary Vaughan Gething told BBC Wales there was a mistrust in politicians and "an anti-politics feeling".
"We need to understand that, listen and act," he said.
Turnout has been high at 71.7% for Wales.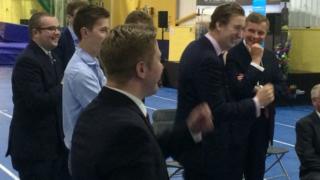 Work and Pensions Secretary and former Welsh Secretary Stephen Crabb said he was "not surprised" by the results in Wales and that voters have not trusted the messages from the Remain campaign.
He said voters said "sorry we don't believe what the Labour party and the government are saying about the benefits of the European Union".
Welsh Secretary Alun Cairns said he was pleased "leading Leave campaigners were quick to write to the PM to show their loyalty to him".
"An important manifesto commitment was delivered today. This shows that our united focus will now be on the manifesto," he said.
Simon Thomas, Plaid Cymru AM, said: "If it is to be Leave, defending Wales' interests just go a lot harder. But that is what we will do. Each and every one of us in Plaid Cymru."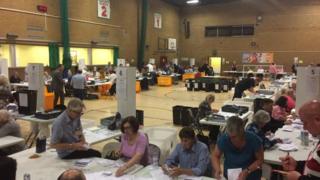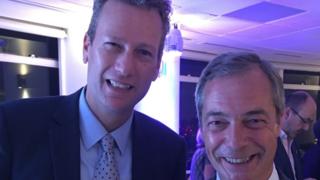 S4C is showing a live results programme which is also being broadcast on Radio Cymru and can be watched on the BBC iPlayer.
There will be updates from BBC Wales on the UK overnight programme on BBC One Wales.
BBC Radio Wales will have a special programme from 06:00 BST on Friday.
Read more: http://www.bbc.co.uk/news/uk-politics-eu-referendum-36612308