We finally catch up with Travis and Chris, the worst teenager on earth, while Alicia explores the hotel from hell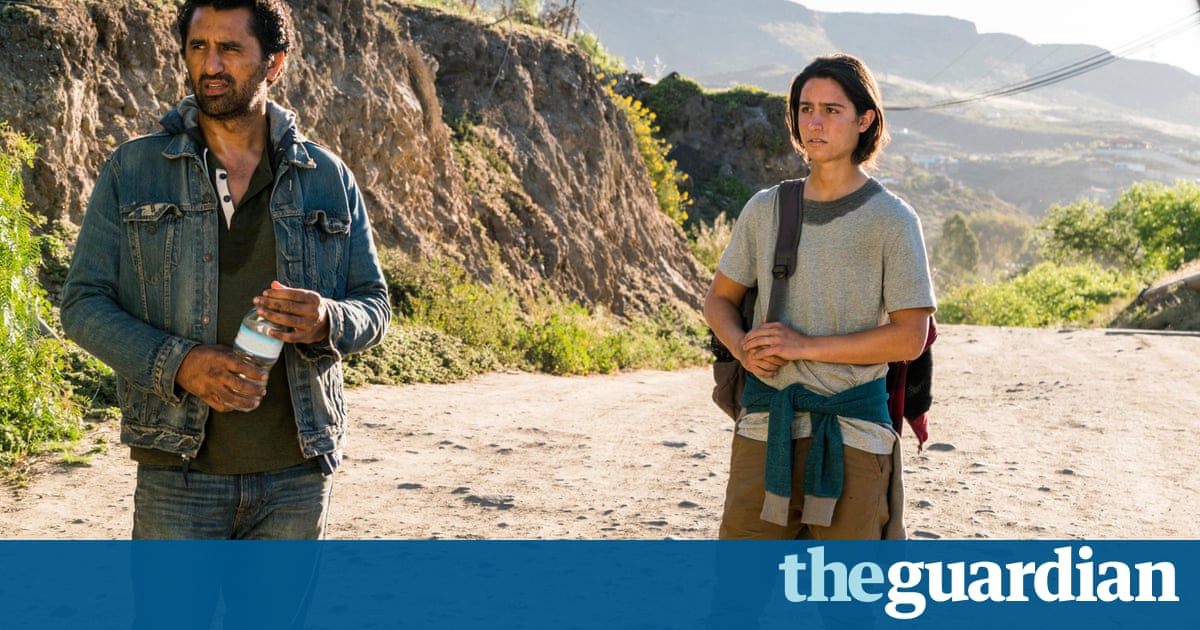 Where are we going to go, Dad?
Well, it only took three episodes for Travis to learn what viewers knew since the pilot: his son Chris is the absolute worst. And its not even his reprehensible shooting of the farmer at the end of the episode that confirmed it. He sort of behaved like a jackass the whole time. First he goes into the taco stand, steals someones food and water, and takes off leaving them to clean up a herd of zombies. Then he lies to his father about how he came across the supplies. Then, when the guys finally confront them at their campsite, he behaves like an entitled jerk thinking that he deserved their food because he killed one of the zombies. God, why cant something just eat Chris?
For a while, Travis thought he could get through to Chris after the traumatic death of his mother in the season one finale. They had a nice moment where he taught him to drive on the empty highway and Chris even avoided gunning it and running over the sole walker ambling down the shoulder, which would have been the immature thing to do. When they were having their little father-son campfire chat, Travis wanted to find a house where the two of them could settle down and start a life together, just the two of them. Chris, however, seemed to not want any part of that even from the outset.
We were nothing before this. We were less than. But the end times made us gods.
The problem, of course, is the Sigma Alpha Epsilon brothers they meet on the road. We dont know for a fact that they are frat boys, but these are the most bro-y bros to ever play lacrosse. One of them even delivered the above quote when they were traveling in the pickup truck, which is entirely awful. Then one of them explained that they call the zombies the wasted because they look drunk, like its an eternal spring break. Then they talked about how much they love rape culture and wish that they could still log on to a mens rights forum on Reddit. Well, that didnt happen, but it seemed like it could.
Brandon, Derrick and Baby James were awful from the minute they rolled up to Travis and Chris at the campsite and, even though they seemed up to no good, Chris definitely wanted to trust them. Something about their eagerness to take on these two strangers seemed false to me, like there was some kind of game they were playing. Chris, desperate for the validation of men and dying to hang out with some people his own age, falls right into their clique.
When they find a farm that seems like a good place for Travis and Chris to settle down, Chris would rather chase chickens in the barn with his new friends. Isnt this what every teenager goes through when he has to pull away from his parents? The difference here is that the world has ended. Chris is right, that the two of them need a group to stay alive, but Travis is also right that attaching themselves to the junior varsity wrestling team probably isnt a smart idea.
Regardless of the negative influence of the bros, it is Chris who kills the farmer when he tries to kick them out of the barn. They might be having some sway over him, but there is something that is broken inside of Chris, something that came loose after the death of his mother, that Travis not only hates but also cant seem to fix. God, Chris is the absolute worst.
I contained the situation
Elena, the insane hotel event planner, might also be the worst. At the top of the show we learn that, when a zombie shows up at the wedding being held in the hotel when the plague hit, she locked all the guests in the room with it. Her justification was that she needed to contain the situation. Elena is clinging to an old role, the person in charge of the hotel, when she needs to abandon that and find what she has to do now that ones profession and loyalty to an employer has been rendered obsolete.
With her cousin Hector, Elena is trying to maintain some semblance of order and is failing miserably. Shes also at war with the remaining guests, who want her punished for what she did at the wedding, even though it seems like Elena is punishing herself plenty. She might seem like an awful person to them, but she helps Alicia get down to the ground floor to find her family. She might have made a grave mistake, but shes not as awful as they all think.
Theyre good people. Theyre strong people
Alicia is also proving herself to be stronger than she was initially. She finds a way to fight off the walkers and has somehow acquired some sick butterfly knife skills. (Did she watch a YouTube video or something?) Her move opening up the elevator and jumping onto the cable to avoid some zombies was a good one, but Im not so sure she should have been so quick to trust Elena. This woman is clearly nuts and running around a hotel brandishing an ax. Should Alicia really be taking her side and sending the herd of zombies after the living guests? They seem a lot more sane and rational. Maybe she should team up with them.
Anyway, Alicia and her two new friends disappear into the bowels of the hotel and end up in a bathroom, where her mother, suddenly sober after sharing a whole bottle of tequila with Strand, has been hiding out waiting for the flesh biters to dissipate. They might be waiting there for as long as it takes Chris to become a tolerable person, and by that I mean forever.
Read more: https://www.theguardian.com/tv-and-radio/2016/sep/04/fear-the-walking-dead-season-2-episode-10-do-not-disturb