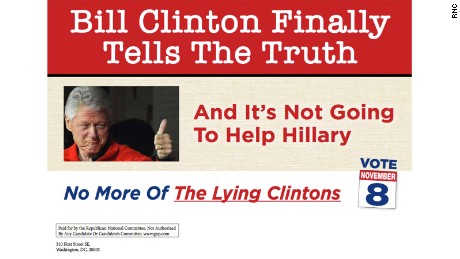 Washington (CNN)Former President Bill Clinton's description of Obamacare as a "crazy system" is headed to mail boxes in a dozen key states in a piece of political literature paid for by the Republican National Committee.
"Bill Clinton finally tells the truth … and it's not going to help Hillary," reads the mailer, which was provided to CNN by the RNC.
The RNC's piece goes on to quote Clinton saying: "Obamacare is 'a crazy system' … where 'premiums doubled' … and recipients had 'their coverage cut in half.'"
The RNC mailer is intended to "turnout voters" in 12 states that are vital to Donald Trump's chances on November 8.
To help middle-income workers struggling to afford insurance, Bill Clinton recommended an idea embraced by his wife's campaign that he first proposed during his 1998 State of the Union address: letting Americans buy into Medicare, the government-run health-insurance program that covers Americans once they reach 65.
Hillary Clinton's campaign was not pleased that the former president's "crazy system" remark has provided ammunition to Republicans a month before voters go to the polls. But her aides are quick to point out that the former president was not attempting to condemn the entire Obamacare system, just the ways it has failed certain people.
"I probably would have chosen different words," John Podesta, the chairman of Hillary Clinton's campaign and a former White House chief of staff to Bill Clinton, told CNN's Jeff Zeleny following the vice presidential debate. "But I think what he was saying is: the law has been a success, but there's still more to do."
Read more: http://www.cnn.com/2016/10/06/politics/bill-clinton-obamacare-mailer-republicans/index.html