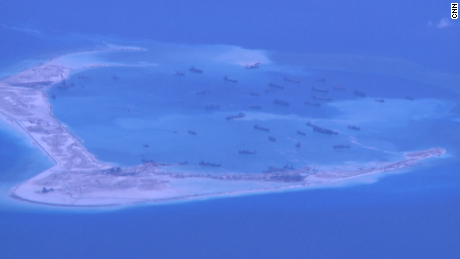 (CNN)China is planning to build nuclear reactors that will take to the sea to provide power in remote locations, possibly including the controversial man-made islands in the contested waters of the South China Sea.
These small power plants will be built in Chinese shipyards, mounted on large sea-going barges, towed to a remote place where power is needed and connected to the local power grid, or perhaps oil rig.
After pausing its nuclear program after the
Fukushima disaster in Japan in 2011
, China has since committed to a huge clean energy drive of wind, solar and nuclear generation, each as big as any in the world.
As part of this plan China is going to build up to 20 floating nuclear plants.
The plans have raised eyebrows and many are asking: Why are they being planned? Will they be safe? Will they be economic?
This idea is not new.
In 1966, the U.S. mounted a submarine nuclear power plant on the Liberty ship, Sturgis, to power the Panama Canal Zone from 1968 to 1975.
It is destined for the Far East port of Pevek, in the Chukotka Republic of Kamchatka.
Advanced plans
But China's plans are much more ambitious.
Construction of the first demonstration floating power plant is to start in 2017, with electricity generation to begin in 2020. The first plant of 20 that are planned may be destined for a site on Hainan Island in Southern China.
China National Nuclear Company has been touring industry conferences for more than year explaining their small reactors and their applications and I visited the company in 2013.
Reports suggest t
hat oil and gas company China National Offshore Oil Corporation (CNOOC) is expected to use floating nuclear power plants for offshore exploration in the South China Sea.
Also, it has been reported that these floating nuclear power plants are being considered for remote locations in the South China Sea, where China has been building man-made islands that are at the
heart of disputes
over ownership of what is expected to be oil-rich waters.
China is using small modular reactors of 50 or 100MW in output, designed for alternative nuclear applications: industrial steam supply, desalination, district heating and remote power supplies.
These small reactors are similar to ones being considered in U.S. and Europe as an alternative to the large reactors, which are the norm for power generation.
They use the same proven water reactor technology as their larger cousins, but are small enough for much of plant to be built in factories, where costs are potentially much lower.
Many of these reactor designs have all the main components inside a single large reactor vessel.
In the case of the Chinese design, the pumps are mounted on the outside of the reactors, with the steam generators and the reactor core inside the vessel.
Read more: http://www.cnn.com/2016/04/28/opinions/china-floating-nuclear-reactors/index.html