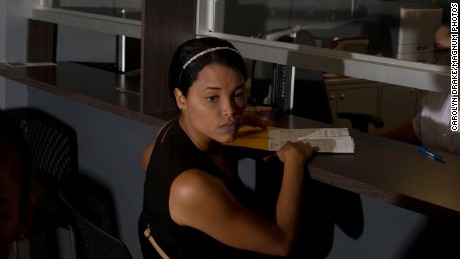 (CNN)When photographer Carolyn Drake arrived in Puerto Rico under the weight of the muggy July heat, she was prepared to cover the U.S. territory's growing number of Zika cases.
The Centers for Disease Control and Prevention
recently reported
that more than 5,500 people in Puerto Rico have been diagnosed with the Zika virus, including over 600 pregnant women.
But despite the epidemic, Drake didn't observe anyone panicking during her five-day trip.
"I didn't see people spraying their clothes or being hyperaware," she said. "Their main concern was not trying to prevent themselves from getting Zika. It's not like everyone is putting screens on their windows and running around with repellant every day."
The CDC says approximately 80% of people who are infected with Zika don't exhibit any symptoms, so the number of those affected is likely much higher.
Drake examined a wide range of life during her short time in Puerto Rico, with her visits including beaches, restaurants and health clinics.
In one clinic Drake visited, couples and expectant mothers filled the room to the brim while a TV reporter peppered a doctor with questions about Zika in English. Packets were distributed with repellant and pink mosquito nets. Drake was only allowed to photograph the educational aspects of these clinics. Due to privacy laws, she was not allowed to interview anyone there with Zika.
Drake was eating in a restaurant with her translator when they met Rosio Cancel, a young woman who had just been diagnosed with Zika. The only reason Cancel had even discovered she had contracted the illness was because she had her blood tested a few days prior when she went to donate blood for a friend. Drake spent the day talking to Cancel and listening to her explain why she's not that concerned about Zika.
A year ago, Cancel had chikungunya, another mosquito-borne illness that she said was much worse. She was left with joint pain and aching muscles. As for her bout with Zika, she took a day off work and then was back in the restaurant the next day.
Cancel was much more interested in talking about the relations between the United States and Puerto Rico than she was about the Zika she had just been diagnosed with.
During her stay, Drake encountered outreach programs set up to educate people about how they can protect themselves from Zika. In the parking lot of a Home Depot, she photographed a table that was set up with repellant sprays, tubes and a beaker holding mosquitoes for demonstration. Drake also saw mothers spraying their children down at birthday parties.
But for the most part, Drake noticed many Puerto Ricans proceeding as usual. Daily life drummed on. People filled the city streets eating at restaurants with their loved ones. They soaked up the sun and salty breezes on the beach with their friends, and they went to work to provide for their families.
"It is really hot and muggy in Puerto Rico, so the idea of people wearing long-sleeved shirts and closing their windows is not even conceivable," she said. "Most places I went are not screened. … I can't make a generalization about what the Puerto Rican people are like, especially after just five days there. I can just offer a glimpse based on my particular experience."
Read more: http://www.cnn.com/2016/08/04/health/cnnphotos-zika-puerto-rico/index.html