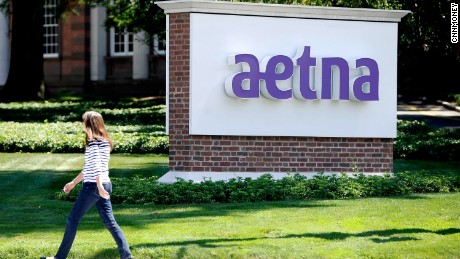 (CNN)Aetna, one of the country's largest insurers, made headlines Tuesday when it announced it is pulling out of health care exchanges in 11 of the 15 states where it now offers insurance.
That's not surprising — the exchanges are the centerpiece of the Affordable Care Act (ACA). And Aetna is a major presence: It had
about 800,000 exchange customers at the end of June
benefiting from the right to buy insurance and to pay the same price as anyone else their age, without regard to their health.
As a result, the company's announcement is being seen as a huge blow to the ACA, and is raising questions about the viability of the program. But this does not necessarily mean that we are witnessing the gradual death of the program nicknamed Obamacare. The system still can work.
But before looking at potential solutions, it's worth looking at what prompted the decision by Aetna — and other insurers before it — to consider backing out.
This goes to the root of the fundamental problem the ACA was set up to solve. Insurers are always happy to ensure healthy people, because they mostly end up sending the insurance company checks for nothing. The point of the ACA was to keep the less healthy people and the more healthy people in the same pool. Making participating in the exchanges a condition of doing business in the state is one way to effectively accomplish this result.
The other route is the public option that President Barack Obama proposed in his campaign for health care reform. If the government offered a Medicare-type plan in the exchanges, it would likely draw in a large enough pool that it would be able to offset the cost of less healthy people with plenty of healthy insurees.
Either of these routes could get around a problem of the exchanges drawing a less healthy pool of applicants. And that in turn suggests the issue is not so much whether the exchanges can be kept intact — they can. Instead, it comes down to something else: whether Congress wants to ensure that as many people as possible are able to actually get health insurance.
Read more: http://www.cnn.com/2016/08/17/opinions/obamacare-can-still-work-baker/index.html