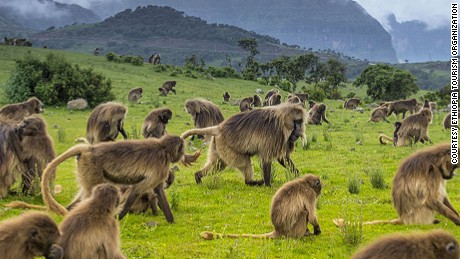 (CNN)In the late 1950s, Ethiopian Airlines launched an advertising campaign in the Western media that touted the ancient kingdom as Africa's "newest travel adventure."
More than half a century later, the huge East African nation has yet to live up to that lofty billing. But it might not be much longer.
The sights, the scenery, the culture are already there.
Ethiopian's ancient orthodox Christianity has endowed the nation with thousands of churches and monasteries, some of them enshrined as
UNESCO World Heritage Sites
.
A succession of empire and kingdoms added medieval forts, palaces and tombs like the Gondar citadel and the towering stone stele of Axum.
"I spent six months going around Ethiopia with my wife making a list of 13 places that would be ideal for a hotel," says lodge owner and founder Silvio Rizzotti, an Italian citizen who was born in Ethiopia.
"We narrowed that down to three before deciding that Gheralta was the best place to create a modern eco-lodge."
New hotels are also in the works in the other places. Addis Ababa-based
Jacaranda
is developing luxury properties on the shores of Lake Tana near Bahir Dar, on a hilltop above the ancient stele of Axum, in Simien Mountains National Park and overlooking historic Gondar.
The properties will be managed by South Africa's
AHA hotel group
, one of the most experienced lodge, camp and hotel operators at the bottom end of the continent.
Expected to open later this year or in early 2017, Jacaranda's Gondar Hills resort is especially impressive, a $20-million mountaintop property. The environmentally friendly hotel will feature 110 rooms hewn from local stone and tucked beneath energy-saving sod roofs.
"Tourism is new in Ethiopia," says Jacaranda manager Andinet Feleke. "So you can't compared with Kenya or Tanzania. It wasn't a government priority until recently.
"But over the last three or four years, the situation has improved a lot. And there's much more awareness now that tourism is important to Ethiopia, that we can compete with Africa's top destinations."
Read more: http://www.cnn.com/2016/07/25/travel/ethiopia-africa-travel-next-big-thing/index.html