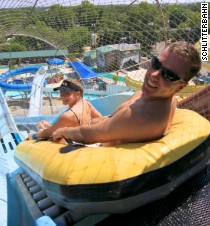 (CNN)The slide at a Kansas water park where a boy died Sunday had been inspected and approved two months ago by an insurance company, CNN has learned.
Caleb Thomas Schwab, 10, was killed after he suffered a neck injury Sunday when riding the Verrckt, the world's tallest water slide at Schlitterbahn Waterpark in Kansas City, officials said.
The amusement park passed a safety inspection conducted by an insurance company on behalf of the park on June 7, 2016.
The Verrckt water slide was included in the inspection, according to the documents.
CNN received the documents in an open records request filed with the Kansas Department of Labor, which is investigating the park.
CNN received an inspection letter that had been sent to Schlitterbahn General Manager Matt Lawrence. The letter came from certified safety inspector Chet Smith, an employee of H&W Risk Management, a division of Haas & Wilkerson Insurance.
In his letter, Smith wrote that the inspection was for insurance purposes and to ensure the park conformed to Kansas laws.
"The rides listed were found to meet underwriting guidelines for insurability with no disqualifying conditions noted," the letter said. "Please be advised that this survey reflects the conditions observed or found at the time of the inspection only, and does not certify the safety or integrity of the rides and attractions, physical operations or management practices at any time in the future."
"A lady in front of me said that multiple times she rode the ride today, the Verrckt, and that the front harness did not work any of the times that she rode it," park guest Jessica Lundquist told CNN-affiliate KSHB.
Verrckt riders are required to be at least 54 inches tall, according Schlitterbahn's website. It was not immediately known whether Caleb met the height requirement.
The slide requires two to three riders to be strapped in a raft with a total weight between 400 and 500 pounds. The raft then "will slide down a jaw-dropping 168 foot 7 inch structure, only to be blasted back up a second massive hill and then sent down yet another gut wrenching 50 foot drop for the ultimate in water slide thrills," the park's website says.
Caleb was riding with two adult women, to whom he was not related, police said. The women suffered minor facial injuries, police said. It was unclear whether the party met the weight requirement.
On Monday,
in another amusement park
accident, three girls were injured after falling from a Ferris wheel at at a Tennessee county fair, a police spokesman said Tuesday.
The 2013 study used Consumer Product Safety Commission information on youngsters who were taken to emergency rooms for amusement ride injuries over 20 years.
The injuries ranged from head and neck problems to injuries to the face, arms and legs. Soft-tissue injuries — damage to ligaments, muscles and tendons — were the most common. Serious injuries made up a small percentage.
Read more: http://www.cnn.com/2016/08/10/us/kansas-city-water-slide/index.html