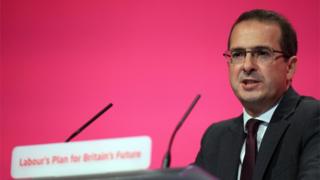 Ex-shadow work and pensions secretary Owen Smith is due to launch his Labour leadership campaign and is warning the party is in "deep peril" and may split.
The Pontypridd MP will say he is the only one of a "new generation of Labour MPs" who can "secure Labour's future".
It comes days after another Labour MP, Angela Eagle, launched her challenge to Jeremy Corbyn's leadership.
Mr Corbyn, who faces a revolt from his MPs but is backed by many party members, will fight the challenges.
Following weeks of turmoil in the wake of the EU referendum result, which saw Mr Corbyn accused by some of not campaigning strongly enough for a Remain win, Mr Corbyn now faces two potential leadership challengers.
Despite dozens of resignations from his front bench and losing a no confidence motion among his MPs by 172 votes to 40, Mr Corbyn says he will fight efforts to remove him as leader.
Mr Smith, in a speech in his constituency, will say: "This is a moment of deep peril for Labour, if we carry on as we are, the party I love will end up in a disastrous split. I am not prepared to let that happen.
"The Labour Party must pull through this crisis and unite, we owe it to the millions of people across Britain, who look to the Labour Party to provide hope and optimism for their lives."
He will say it will now fall to "a new generation of Labour MPs to step forward and secure Labour's future" adding: "I am the only person in this race who can do that.
"It is not enough just to talk about being anti-austerity, Labour needs to set out the details of how we overcome Tory austerity and secure the next Labour government that delivers investment, not cuts."
Labour's ruling National Executive Committee said on Tuesday that Mr Corbyn would automatically go on to the ballot paper as the sitting leader. His challengers needs the backing of 51 MPs or MEPs – 20% of the Parliamentary party – to stand.
Speaking outside the meeting, Mr Corbyn, who was elected as leader overwhelmingly in a vote of Labour members and registered supporters last year, said he would campaign on "all the things that matter".
"The inequality and poverty that exists in this country, the need to end the privatisation of our National Health Service, the need to give real hope and opportunity to young people all across this country.
"That will strengthen our party in order to defeat this Tory government and bring in a government that cares for the people."
He said he was sure Labour MPs "will understand that the party has to come together… to present to the British people the options of a different and better way of doing things".
Former shadow business secretary Ms Eagle – who has already secured 51 nominations from MPs – has been calling for Mr Corbyn to resign for days.
She said she had eventually decided to launch a formal challenge because he was unwilling to stand down and she could provide the real leadership he could not.