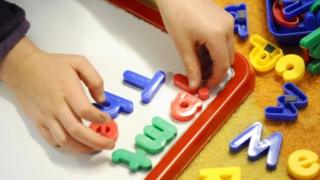 Every parent should have the right to quality, affordable childcare, Labour will say as it announces a review of its approach to early years provision.
Shadow education secretary Angela Rayner will say Labour's mission must be to ensure no child's life chances are blighted by lack of support.
Sadiq Khan, meanwhile, will warn Labour not to be satisfied with opposition.
The mayor of London will say the party leadership is settled and its focus must now be on achieving power.
In his first speech to conference since his election in May, Mr Khan will congratulate Jeremy Corbyn on his re-election but he will implore the party to focus on getting into government not internal battles.
There have been continuing appeals for unity following Mr Corbyn's re-election but uncertainty over when or how many critics of the leader will be invited back into the shadow cabinet.
BBC political editor Laura Kuenssberg said a row over changes to shadow defence secretary Clive Lewis's speech on Tuesday showed how hard it was for the party in its current fractious state "to keep the show on the road".
In her first major speech since being promoted in July, Ms Rayner will draw on her own personal experience to argue the closure of 800 Sure Start Centres since 2010 has "shut the door in the faces of our children and their parents".
"I left school at 16, pregnant, with no qualifications," she will say. "Some may argue I was not a great role model for today's young people. The direction of my life was set.
"But something happened. Labour's Sure Start centres gave me and my friends, and our children, the help and support we needed to grow and develop. They changed the lives of three million children and their parents."
"Unlike the Tories, Labour will never turn our backs on our children and their families."
Social mobility
Emphasising the importance of access to affordable, high quality childcare as a driver of social mobility, she will announce that senior Unison official Liz Snape will chair a taskforce into childcare provision and early-years learning.
"Our aim will be to provide the care and support for every child to fulfil their potential, and to help parents back to work," she will add.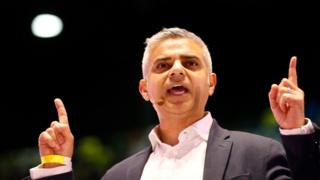 "Getting it right will improve the life chances of countless children across the country. That must be our mission."
Her speech comes ahead of a major offensive on education, which Labour regards as a weak spot for the Conservatives amid its controversial plans to expand grammar schools and selection by ability in state schools.
Under the slogan "education, not segregation", Labour will be contacting one million residents of marginal seats in towns and cities such as Swindon and Norwich to highlight the party's opposition to expanding grammar schools and seek to mobilise the party's growing membership.
The campaign, designed to coincide with a national day of action on Saturday, will also focus on the increase in university student fees and the scrapping of student grants.
'Grab power'
In his speech, Mr Khan – the party's most powerful elected official in England – will say Labour must use its success in London and its strong representation on councils across England as a springboard back to national government.
Its first priority, he will say, is to ensure it wins the metro mayoral elections in Merseyside, Greater Manchester and West Midlands next year to put Labour in "power in every great city in Britain".
"It's only with Labour in power that we can create a fairer, more equal and more just Britain."
"Labour out of power will never, ever be good enough…The people who need us the most are those who suffer the most when Labour is not in power.
"It's time to put Labour back in power. It's time for a Labour government. A Labour prime minister in Downing Street. A Labour cabinet. Labour values put into action."
Elsewhere on the third day of the conference, shadow health secretary Diane Abbott will vow to "renationalise" the NHS by removing private provision and curbing the internal market which she will say has "ripped" patients off.
And deputy Labour leader Tom Watson will launch an independent commission into the future of work, to look into the challenges of new technology and automation.