ST. LOUIS Civil rights lawyers sued 13 St. Louis-area cities in federal court on Tuesday, alleging they violated the constitutional rights of poor people by locking them in squalid jail cells in connection with minor traffic infractions a practice that contributed to the tension that boiled over in Ferguson two years ago after a police officer shot an 18-year-old to death.
The lawsuit, filed on the two-year anniversary of the killing of Michael Brown, targets the city of St. Ann and 12 smaller municipalities some with just a few hundred residents that use St. Ann's jail to hold municipal debtors under what the lawsuit calls "inhumane" conditions.
Brown's death helped bring attention to a rigged municipal courts system in St. Louis County that allowed municipalities to use their courts to pad city coffers rather than administer justice. An in-depth investigation by the Justice Department revealed a policing and court system in Ferguson that treated residents as "potential offenders and sources of revenue" rather than constituents to be protected, resulting in a recent agreement to reform the city's policing practices. Nearby municipalities have engaged in the very same unconstitutional practices, according to the lawsuit.
The lawsuit, which seeks class-action status, represents a broad challenge the fractured municipal court system in St. Louis County and has the potential to help bring about widespread changes in a region where municipalities have treated their courts as cash generators.
ArchCity Defenders, a civil rights organization in St. Louis that has aggressively challenged the region's municipal courts, and Arnold & Porter, a Washington-based law firm, filed the suit on behalf of 13 people they say have been "terrorized" by the municipalities.
The municipalities operated a "modern day police state and debtors' prison scheme that has no place in American society today," the suit says.
"I've never encountered anything like this," said Robert Weiner, a partner at Arnold & Porter. His remark echoed a comment by the head of the Police Executive Research Forum, who said the "dysfunctional" system in St. Louis County was unlike anything he'd seen.
The suit, which also named the cities of Edmundson, Normandy, Cool Valley, Velda City, Beverly Hills, Pagedale, Calverton Park, St. John, Bel Ridge, Wellston, Velda Village Hills, and Bellefontaine Neighbors, alleges:
Defendants have abused the legal system to bestow a patina of legitimacy on what is, in reality, extortion. If private parties had created and implemented this scheme, enforced it by threatening and imposing indefinite incarceration, and milked poor families of millions of dollars, the law would punish them as extortionists, or even racketeers, and the community would take steps to prevent them from exploiting the most vulnerable of its members. These predatory practices are no more legitimate and indeed, are more outrageous when perpetrated under color of law.
The lawsuit accuses the municipalities of operating "de facto debtors prisons" used "as a tool to cow poor people into financing municipal government." The system places poor defendants into a "Kafkaesque web of indignities and incarceration that plunge the victim ever deeper into poverty," the suit says.
Inmates incarcerated by St. Ann, the suit alleges, are held under horrific conditions that include overcrowded cells, "reused" blankets, "disgusting and unsanitary" mattresses, and "unhealthy and nearly inedible" food. Inmates were not allowed to shower until they had been held at the jail for a week, the lawsuit says, and trash piles in cells gave off a "very pungent odor."
One legally blind plaintiff alleges officers refused to allow her to keep her glasses. Another says she was denied her medications, and that guards called her "crazy" and an "African child." Yet another says she was held in a cell with a schizophrenic inmate announcing she wanted to kill someone.
Blake Strode, a St. Louis native who attended Harvard Law, interned at the Justice Department and now works for ArchCity Defenders, said there's been a misconception in recent months that the problems in St. Louis County municipal courts have been addressed. In reality, he said, it's been "business as usual" for many cities in the region.
"This is really a widespread, structural problem in the region, and so we thought we needed a more widespread, systematic attack on that practice," Strode said in an interview. "Our goal is not to bankrupt every city in St. Louis County, but our clients have suffered serious constitutional violations, and they're owed something for that. So our priority is to make the case for our clients, to push for the policy changes, and to make sure that they are compensated for the losses they've suffered."
By imprisoning those who can't afford to pay fines, the municipalities have violated rights of due process and equal protection guaranteed under the 14th Amendment, the lawsuit says. The lawsuit also alleges violations of the Fourth Amendment because the municipalities issued warrants without probable cause, as well as violations for the Sixth Amendment due to failure to provide for effective assistance of counsel.
ArchCity Defenders recently reached a settlement of nearly $5 million with the city of Jennings in a similar lawsuit filed on behalf of an estimated 2,000 people who had been jailed over unpaid debt. Jennings also agreed to significant changes, including an end to the cash bail system. A lawsuit against Ferguson is still pending.
A plaintiff in the new class-action case, Donya Pierce, was previously part of a lawsuit against the tiny city of Velda City, which agreed to end its fixed cash bail system in 2015. An organization called Equal Justice Under Law has filed lawsuits against debtors' prison practices in several other states and had success in stopping unconstitutional bail practices.
Several municipalities named in the lawsuit have imprisoned the lead plaintiff, Quinton Thomas, a 28-year old factory worker, in connection with minor driving-related offenses like running a stop sign, lacking proof of insurance, and improper vehicle registration. Thomas was issued hundreds of dollars in fines in Normandy, a city neighboring Ferguson that shares many of the same issues with using its municipal court to generate revenue. More than 40 percent of Normandy's revenue came from fines and fees.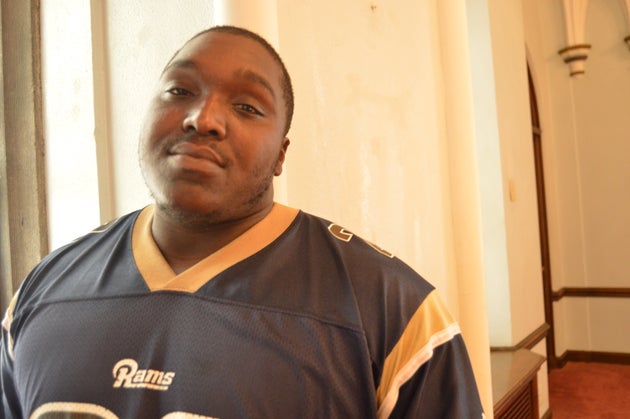 Thomas was fined more than $600 from a traffic stop in Normandy. He said he tried to explain to a judge that he could neither afford to pay the full amount, nor the minimum payment of $100 the city was demanding. When he asked if he could pay $50 toward the fine, the judge said no, he said.
"They told me if I couldn't do $100, they were going to put a warrant out for me," Thomas said in an interview.
When Thomas was pulled over in 2013, he was arrested on that outstanding warrant from Normandy, as well as on warrants from other cities. Officers took him to jail in St. Ann, where Thomas said everything the mattresses, the walls, the floors were so dirty he didn't want to touch anything.
"It was just nasty," he said. Meals, the lawsuit alleges, consisted of a "bologna sandwich (with greenish meat and hard bread), apple sauce, and black coffee."
Thomas said he once had to sit in jail for several days just to wait for a direct deposit into his bank account that would allow him to pay the court. He said he lost two jobs because of the time he spent behind bars. He said he was seldom allowed to appear before a judge after being arrested.
"I lost my job and they impounded my vehicle," Thomas said. "I couldn't go to work. I couldn't get a job because a lot of jobs be so far out and you need a car."
Thomas is employed again, but said he fears being pulled over and thrown into a cage every time he gets inside his car. He's currently paying the city of St. John, which claims Thomas owes more than $500 on what started out as a ticket for less than $100.
His offense? A parking violation.
"I got it down to like $300, but it was all the way up to $560 all for a parking ticket," he said.
Although the White House and Obama administration have tried to put a spotlight on excessive fines and fees, organizations like ArchCity Defenders and Equal Justice Under Law have been effective in using federal lawsuits to force change. Some advocates have called for the Justice Department to prosecute judges and public officials who have engaged in conspiracies to deprive people of their constitutional rights en masse as part of an effort to raise revenue.
Earlier this year, the Justice Department reminded local courts that some practices that they may consider a "routine administrative matter" like forcing defendants to pre-pay a bond or bail before they can schedule a court date are unconstitutional. Locking up someone simply because they aren't able to afford paying a fine, without taking their financial circumstances into account, is a blatant constitutional violation, yet continues to happen with regularity. That won't change, some advocates say, until the feds start locking up municipal judges.
Missouri lawmakers attempted to rein in municipalities that relied heavily upon municipal court revenue last year, passing bipartisan legislation that lowered the percentage of their budgets that cities were allowed to fund through court fines and fees. That percentage was trimmed from 30 percent to 20 percent statewide, and to 12.5 percent in St. Louis County. But several cities in St. Louis County filed suit challenging the limits, and a circuit judge struck down the county cap because it targeted specific municipalities.
St. Ann kept its revenue flowing after a major mall closed by operating a highway speed trap near the St. Louis airport. St. Ann earned 37 percent of its revenue from court fines and fees in 2013, according to a 2014 report from state-appointed research group Better Together.
Black drivers in St. Ann were nearly 10 percent more likely than whites to get arrested in traffic stops, a disparity similar to the other cities named in the lawsuit.
Nicole Hudson, who worked with the Ferguson Commission, said the lawsuit has the potential to force change rather than wait for those in power to move at their own speed.
"Having a lawsuit like this that is swinging for the fences in this way is going to move the needle on what change looks like and what the universe looks like for everybody," Hudson said.
Bradley Jiles, 24, said he was strip-searched and forced to sit in a restraint chair for 24 hours while in the Hillsdale jail. Jiles has been jailed more than 10 times in five years for municipal ordinance violations.
Meredith Walker, a 47-year-old mother of two, has been jailed at least 10 times and said she paid more than $15,000 in fees over five years even though she said she hasn't been ticketed for a moving violation in more than 15 years. Walker even changed her appearance, according to the lawsuit, "because she discovered that she was stopped by the Defendant Municipalities' police officers more often when she had dreadlocks in her hair and appeared more masculine."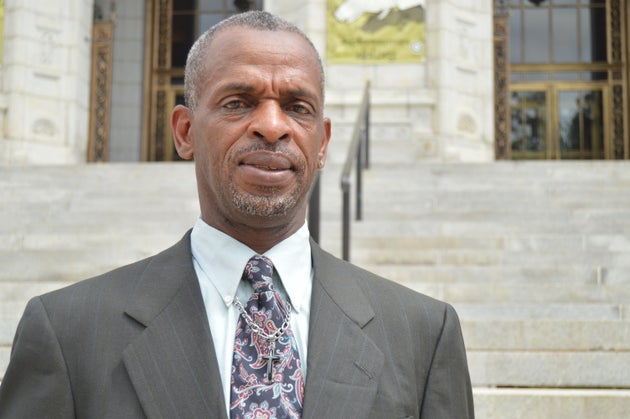 Ronald Tucker, 51, was pulled over in 2014 because his car was smoking. The officer ran his name, discovered old traffic warrants from Cool Valley, and took him into custody.
Cool Valley covers less than 0.5 square mile, with a population of just over 1,000 people. A few years back, it disbanded its 10-person police department in part because it ate up more than half of the city's entire budget.
Tucker, who said he skipped court dates on the old case after he lost his job and feared a judge would lock him up, was incarcerated in Cool Valley for three days in what he called a "dog cage." Left unsupervised in a holding cell without a bathroom, he sometimes got desperate.
"I was in a cage with no restroom and had two more females in the cell with me and I had to use the restroom real bad," Tucker said. "I urinated on the floor. I mean, I wasn't going to do it on myself. I'm a grown man."
Tucker said he spent several hours locked to a bench before he was booked, which he said was one of the worst experiences of his life. Later, when he suffered an asthma attack, he said jail attendants refused to allow his girlfriend to bring him an inhaler.
While bail is supposed to be set by a judge who evaluates an individual's circumstances, there was no judicial involvement in Tucker's incarceration. Tucker said police officers tried to negotiate with him.
"They said if someone come up with $150 or $175, we'll let you go," Tucker told HuffPost. Tucker said he couldn't reach anyone for money because he only was allowed one five-minute phone call per day.
Tucker spent three days at Cool Valley before being transferred to the St. Louis County Justice Center, where he finally received an inhaler and was bonded out for almost $400. But Tucker's time served was never applied to his outstanding fines, and a warrant for him remained outstanding in Cool Valley.
"I wouldn't want to see anybody else be treated like me and those females when we were in that cage," Tucker said. "I don't have a problem with the law. They have a right to pull us over and make sure we're right. But if you going to lock me up, lock me up for something major not just a ticket."
Jailing a human being places them in danger, and hundreds of people die in U.S. jails each year. A system that confines individuals not because they pose a threat to public safety, but simply because they owe the government money, should not be accepted, said ArchCity's Strode.
"I think we have a tendency and a sort of instinct to rationalize these systems that we all come to rely on, and to think that they must be operating in a way that is just and fair, or that it makes some sort of rational sense," said Strode. "On the most basic level, what we have here is a system in which when you receive a traffic ticket, if you have money, there's one system. If you don't have money, there's another. It's only if you don't have money that sitting in jail for days on end sometimes weeks on end is on the table. And that is fundamentally unjust."
Read the lawsuit:
Mariah Stewart reported from St. Louis. Ryan J. Reilly reported from Washington.
Read more: http://www.huffingtonpost.com/entry/lawsuit-extortionist-ferguson-municipal-courts_us_57a8e636e4b06adc11f0f0c9?section=&