To bypass the so-called liberal media, the Republican nominee launched his own news program. If they intend to compete, the hosts might want to try harder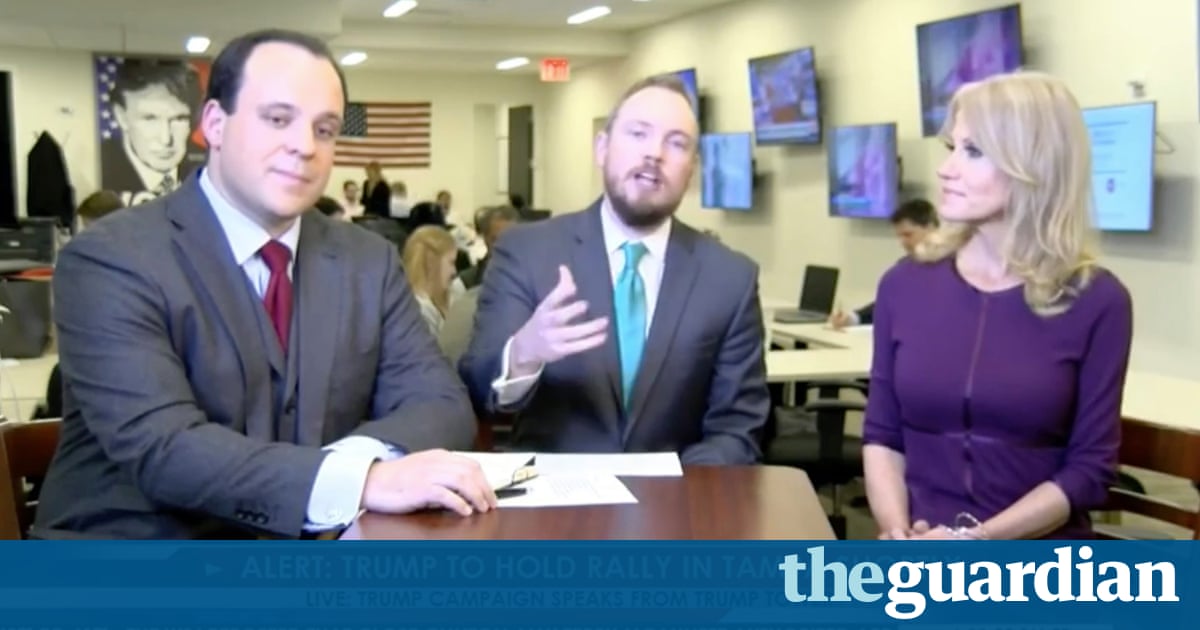 I thought thered be snacks, RNC strategist Sean Spicer said to the hosts of the debut installment of what the media is generously referring to as Trump TV.
We were all in a bit of a frothy lather over this being the long-awaited rollout of Donald Trumps real 2016 endgame a 24-hour news empire to go toe-to-toe with Fox News for the eyeballs of Americas far right. At last, Trump would reveal his true intentions.
Instead, we got a grown man asking where the craft services table is.
This is not Trump TV, declared the hosts Trump advisers Boris Epshteyn and Cliff Sims. It is, instead a program called Live from Trump Tower an effort by us to reach out to you, they said.
Lets really load this up, Epshteyn exclaimed, as though he were in line at Sizzler and about to dump a soup ladle full of sour cream on his baked potato. Something about Live from Trump Tower makes people hungry, I guess. Im sure someone can pop down to grab one of Trump Towers famous taco bowls.
But there is no discernible entertainment value to be had in Live from Trump Tower, unless your idea of a good time is significantly less professional than InfoWars, but with fewer insane people removing articles of clothing.
A visible effort was made to mimic the look and feel of cable news, down to the hypnotic scroll of propaganda and stretched truths: the Las Vegas Review-Journal has endorsed Donald Trump! Dont worry that the paper is owned by one of Trumps biggest donors and that this is his only major newspaper endorsement!
I found myself momentarily hypnotized. The only thing that could break the spell was the conspicuous sound of the iPad filming this debacle receiving a Skype call. I hope it was Roger Ailes asking where his production budget went.
The actual program involved Epshteyn and Sims sitting at a table inside Trumps campaign office, trading catchphrases and conspiracy theories the liberal media is hiding the truth, drain the swamp, Twitter is an accurate accounting of the American electorate, Hillary sent people dressed as ducks to incite violence at Trump rallies until the loose segments peter out and are replaced by clips of the orange candidate popping a blood vessel over Obamacare.
The backdrop of boxes, loose papers and telephones gives it all the flavor of a dire PBS telethon or a sparsely attended youth group meeting in the basement of a Lutheran church.
First, Epshteyn and Sims thoroughly hashed out the story of Clinton supporter Terry McAuliffe donating to the campaign of an FBI official, and then chastised Hillary Clinton for the way in which she earned her sizable wealth. Sims then threw to Tomi Lahren, a 24-year-old blonde woman and host for the conservative multimedia network The Blaze who recently compared the Black Lives Matter movement to the Ku Klux Klan.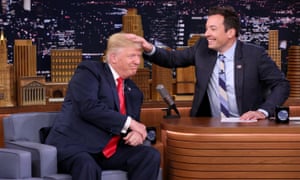 Read more: https://www.theguardian.com/us-news/2016/oct/24/trump-tv-facebook-live-us-election-media-tomi-lahren