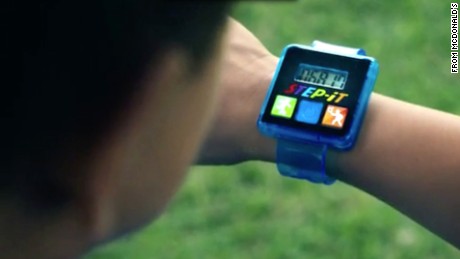 (CNN)McDonald's is removing Step-It activity trackers from Happy Meals due to concerns over skin irritations, according to a statement sent to CNN on Wednesday.
"We have taken this swift and voluntary step after receiving limited reports of potential skin irritations that may be associated from wearing the band," company spokeswoman Terri Hickey said in the statement. "Nothing is more important to us than the safety of our customers and we are fully investigating this issue."
The exact number of reports was not specified.
She suggested that instead of feeding their children Happy Meals, parents might consider other affordable fitness tracker options, or "go for a walk, go to the park, play games with your family that promote fitness rather than going into a restaurant."
McDonald's has long faced criticism regarding low nutritional values in its food. In recent years, the company has been increasingly committed to improving its
food quality
, including introducing the low-fat
Go-Gurt
yogurt in 2014 and
removing artificial preservatives
from its chicken nuggets in August.
According to McDonald's
nutrition calculator
, a Happy Meal with a kids' fries, a cheeseburger, apple slices and a milk jug contains 530 calories and 20 grams of fat. It would take an
average adult man
who weighs 195 pounds about 90 minutes to walk off those calories, according to a calculator by the
Calorie Control Council
.
Garrison said there could be a mixed message, of sorts. "It does come across as an attempt at branding McDonalds and Happy Meals as 'healthy' — and while they've made some improvements in that regard over recent years, there is still a long way to go."
Read more: http://www.cnn.com/2016/08/17/health/mcdonalds-removes-fitness-tracker-happy-meal-step-it/index.html