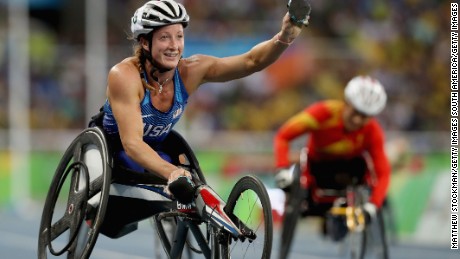 (CNN)Day four of Rio 2016 saw another 54 gold medals on offer.
Tatyana McFadden continued her quest to win a medal in every race she's entered… and there's seven of them.
There was plenty to cheer for Great Britain on the water this morning as it totally dominated, and host nation Brazil had no less than four new heroes in the Olympic Stadium.
Seventh heaven?
The superstars of the Paralympic season are often lauded with recourse to their Olympic counterparts.
Versatile swimmer Daniel Dias is known as Brazil's answer to Michael Phelps; Jason Smyth, the fastest Paralympian of all time, is sometimes called the 'Irish Usain Bolt.'
But from a Soviet orphanage to her twelfth Paralympic podium, wheelchair athlete Tatyana McFadden isn't served by commendatory comparisons. As IPC president Sir Philip Craven rightly contends, "Tatyana is great enough already."
Born with paralyzing congenital disorder Spina bifida, McFadden spent the first six years of her life in Russia walking on her hands.
Left in an orphanage by her mother, her health deteriorated and doctors feared she wouldn't live long.
That was until she met Deborah, the American visitor who would go on to adopt her.
Sport was Tatyana's salvation.
Two decades on, having been brought up to believe she can overcome any obstacle, the 27-year-old is competing in every Rio 2016 wheelchair event from the 100 meters to the marathon.
Such is her talent and determination, she could leave Rio with seven medals.
Already with silver to her name from the T54 100m — supposedly her worst event — McFadden added 400m gold Sunday, finishing comfortably ahead of compatriot Cheri Madsen and China's Lihong Zou.
McFadden also has two consecutive marathon "grand slams" to her name, winning in Boston, London, Chicago and New York — setting a number of new course records in the process.
She claimed gold in every event from 100m sprint to 5,000m at World Championships in 2013.
And two years ago even competed in the winter Paralympics, taking to the Sochi snow in a sit-ski to win a silver medal in the cross-country 1km sprint — a particularly poignant moment, given McFadden was briefly reunited with her biological mother Nina Polevikova.
Britain's golden morning
A Belarusian veteran, Israeli world champion and Norwegian former skier couldn't stop Rachel Morris charging to gold in the women's arm-only single sculls (ASW1x) as Great Britain claimed the first of four medals at the Lagoa Stadium.
Fourth at the halfway mark, it transpired nothing was going to stop her.
Rather, Morris's nearest rival Lili Wang of China could only watch in wonder as this former hand-cyclist Paralympic champion surged to a second gold in a sport requiring vastly different muscle groups and vastly different training methods.
Leaving nothing on the water, she finished the 1000m race in 5:13.69 — a full 19 seconds quicker than her heat.
But this was about more than sport for Morris; the 37-year-old suffers from complex regional pain syndrome, a rare condition which causes her body to reject its own injured limbs.
Sport sustains her.
And now, four years after Morris was hit by a car during a time trial near her Surrey home — suffering whiplash, serious shoulder injuries and destroying her bike — she has proven herself a truly protean champion.
"To do it again in a different sport means so much," Morris enthused after the race. "To get here has been pretty difficult."
"I had a race plan and I stuck to it. I didn't race their race; I raced my race and I knew what I could do."
"It's a bit of a clich but all the hard work is worth it. Coaches, funding …. It all enables us to be part of such an incredible team."
Team GB's second gold came courtesy of Lawrence Whiteley and Lauren Rowles in the mixed double sculls, and the third & final gold arrived in the mixed coxed four.
But the medal rush didn't stop there, Beijing gold medalist Tom Aggar took bronze in the men's single sculls.
Brazil's sprint stars
It's been an incredible Paralympics so far for the host nation.
Currently sitting fifth in the overall medal table at the time of writing, the locals in Rio had four new heroes to cheer in the Olympic Stadium Sunday.
In the athletics morning session, Petrucio Ferreira dos Santos and Yohansson Nascimento — roared on by an electrifying home crowd — won gold and bronze in the men's 47 100m final.
Only 19 years of age, dos Santos beat the world record he set in the semifinals, finishing in a time of 10.57s and pipping two-time world champion Michal Derus and 2011 world champion Nascimento to the title.
The previous world record had stood for 24 years.
"When the race ends I think about everything that happened in my life: where I come from and where I am today," he told the Paralympic website.
"Listening to the Brazilian anthem on the top of the podium I remembered the days when I came back home and I could not even take a shower because of my tiredness.
"I worked so hard to win this medal, our (Brazil's) medal. I'd like to dedicate it to the whole country, my state Paraiba and mainly to my parents."
Next up was Teresinha de Jesus. The 35-year-old, who had her left arm amputated after falling off a wall at the age of eight, took bronze in the T47 100m, finishing behind Poland's Alicja Fiodorow in second and the USA's Deja Young who took the gold.
Last but certainly not least, was Felipe Gomes who won silver in the T11 100m, a category for blind athletes, behind USA's David Brown.
For all the concern the Paralympics might not go ahead at all, the host nation are now proving its athletes can mix it with the very best.
Blistering Brown
And we can't end without special mention to Brown. The American became the first fully blind man in history to run below 11 seconds, clocking 10.99s on his way to gold.
Not only is he pretty nifty on the track, he's also quite the musician.
Despite being told he would lose his sight at the age of 15, Brown is an accomplished drummer, pianist and also plays tenor saxophone. It won't come as much of a surprise, then, that he used to be in a jazz band.
The 23-years-old, coupled with guide Jerome Avery (and known as Team BrAvery), still has 200m and 400m to look forward to in Rio and is favorite to win a medal in both.
Read more: http://www.cnn.com/2016/09/11/sport/paralympics-day-four-tatyana-mcfadden-rachel-morris/index.html