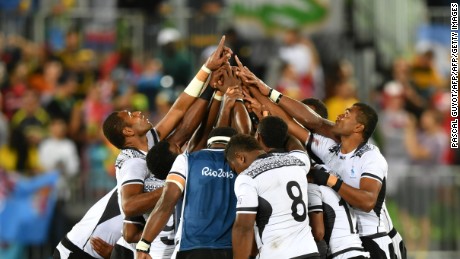 (CNN)The Rio Olympics have been mired in controversy and doubt, but as the competition unfolds, it's clear the Games will also be remembered for their firsts.
Two brand-new National Olympic Committees, a refugee team and a historic win by an African-American swimmer are just a few of the defining moments that will be recorded this year with fresh ink.
The citizens of Fiji and Kosovo saw their countries medal for the first time — in gold for both, to boot. For American audiences, these Olympics marked the first time a U.S. athlete competed wearing a hijab.
These religious, cultural and geographic inclusions are all signs of a changing world.
It seems odd to talk about the expansion of diversity and compassion at an event that is billed as a global celebration of diversity and compassion. Yet, as the refugee team entered the Maracan Stadium to thunderous applause during the Opening Ceremony, it became clear that, to be considered a truly global affair, the Olympics also needs to be a modern one that recognizes both the challenges and the triumphs of the international community.
Read more: http://www.cnn.com/2016/08/12/sport/rio-olympic-firsts-trnd/index.html