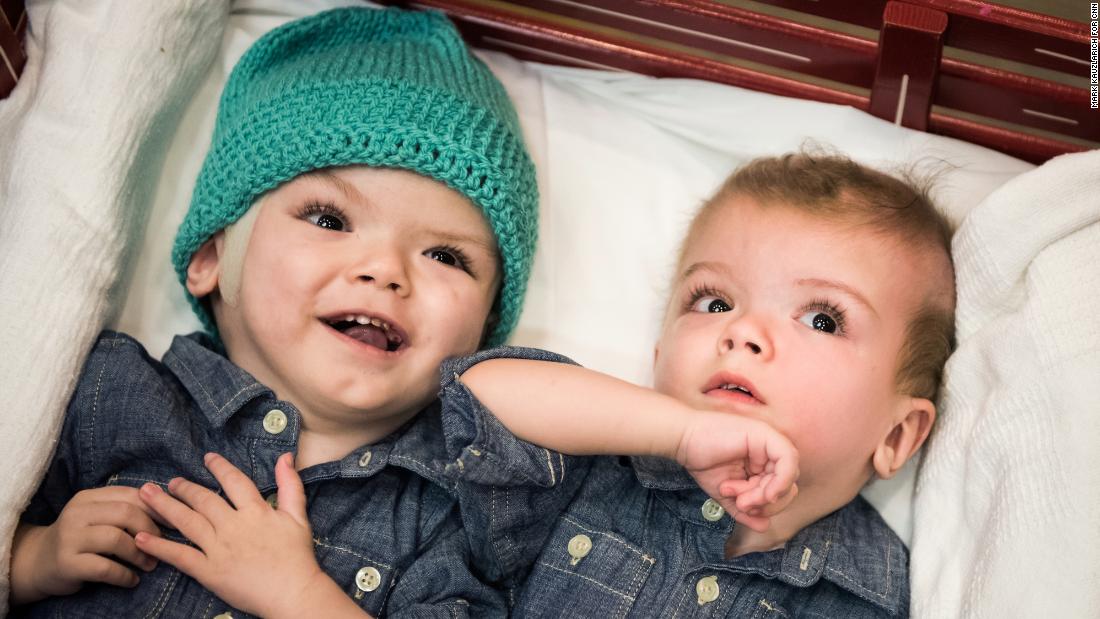 New York (CNN)Jadon and Anias McDonald, the twins born joined at the head whose separation surgery captivated millions around the world, were gently placed in a red wagon.
They lay side by side, Anias in a blue jumpsuit and Jadon in a gray one. They wore specially fitted white helmets, but there was no evidence of the tubes, IVs or monitors that have been their lifelines since surgery.
Outside the room, more than 30 doctors, nurses and staff at the Children's Hospital at Montefiore Medical Center lined the hallway. A red carpet was rolled out for the boys.
It was time to say goodbye.
Among those on hand Wednesday were lead neurosurgeon Dr. James Goodrich and lead plastic surgeon Dr. Oren Tepper. Both were armed with celebratory baby rattles. Others waved pom-poms and shook tambourines as the boys made their way down the hall of the 10th-floor pediatric intensive care unit (PICU).
The staff had posted a sign on the wall: "Way to go! You did it! We are so proud of you."
Sitting at the front of the wagon was the boys' 3-year-old brother, Aza.
A new space
The boys' wagon ride on Wednesday took them to the lobby of Montefiore, where paramedics and EMTs transferred them to stretchers. Aza jumped onto the stretcher carrying Jadon. More staffers crowded the lobby to send them off.
Two ambulances awaited outside, one for each twin. Aza cried uncontrollably when he had to get off the stretcher as Jadon was being placed in his ambulance.
It was 2:58 p.m. when the twins left. The sun was shining bright over the Bronx on a beautiful 43-degree day.
The ambulances drove together at a steady 20- to 30-mph pace along New York parkways to Valhalla, arriving at Blythedale Children's Hospital at 3:45 p.m.
"It's almost surreal. I can't believe this is finally happening," Christian said as the boys were wheeled into the new facility. "It's such a big step in the right direction."
Unlike their sendoff at Montefiore, their arrival at Blythedale was tranquil and peaceful.
By 3:49 p.m., the boys were in their new room, spacious and brightly colored, with two beds — one for each boy — and two sofas that can fold out into beds for Mom and Dad. It is this facility where the boys will learn how to eat, play and walk.
Nicole held Anias in her arms and marveled at Jadon as he settled into his new bed.
"This is beautiful. I know that the boys will flourish here. It's an exciting step, and we're ready to take off."
Read more: http://www.cnn.com/2016/12/14/health/conjoined-twins-rehab/index.html