Demonstrator rappels down banner at US Bank Stadium targeting Dakota Access pipeline during game between Minnesota Vikings and Chicago Bears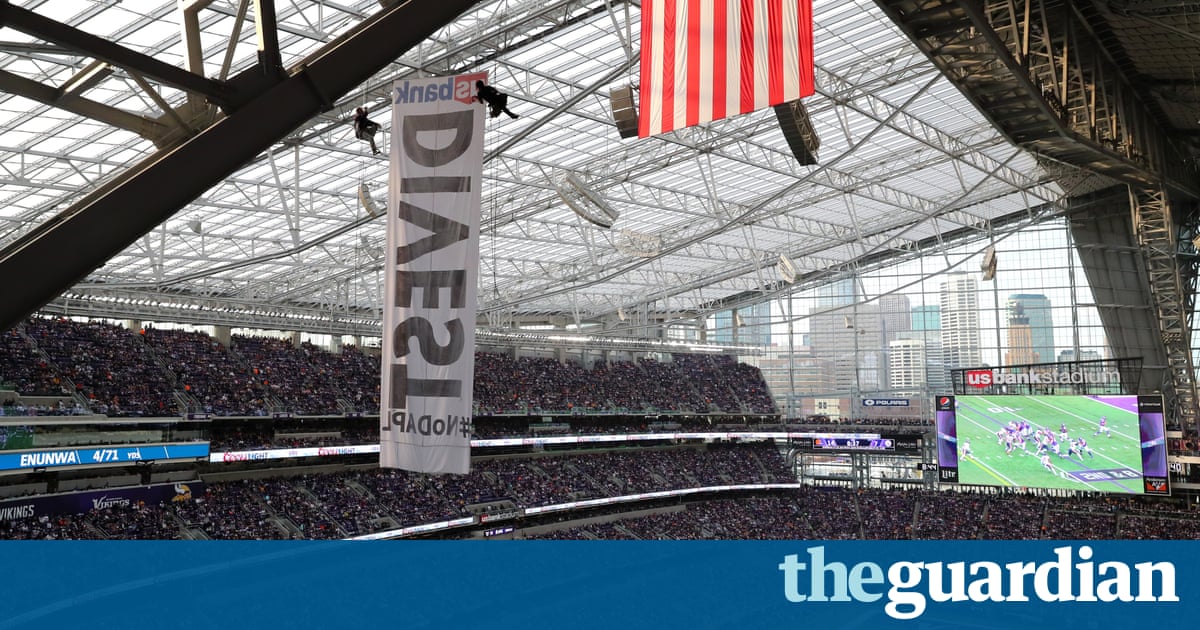 In Minneapolis on Sunday protesters unfurled a banner protesting the Dakota Access oil pipeline, high above the field during an NFL game between the Minnesota Vikings and the Chicago Bears.
The protest continued through the game, though play was unaffected.
The banner, which read Divest #NoDAPL and carried the US Bank logo, was hung in the US Bank Stadium by two people. One of the protesters, wearing a No4 Brett Favre Vikings uniform, rappelled down the banner.
Members of the media were reportedly sent a message that said the stunt was designed to urge US Bank to divest from the pipeline project, which is run by Energy Transfer Partners, a Dallas-based company.
At halftime, stadium manager SMG released a statement that said: Two individuals appear to have climbed over a guard rail to access the ridge truss.
We immediately dispatched on-site Minneapolis police and fire departments to the scene and cleared the seating section.
The company said it was working to end the protest with all stadium partners and with a primary focus on the safety of the fans and these two individuals.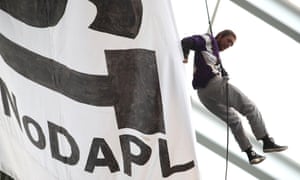 Read more: https://www.theguardian.com/us-news/2017/jan/01/standing-rock-protest-minneapolis-nfl-football-game-vikings