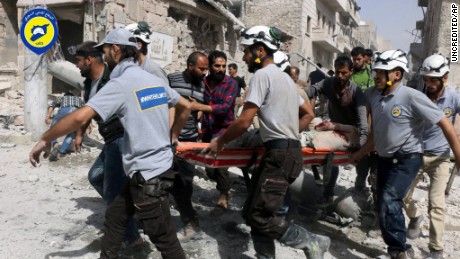 (CNN)Intense and ongoing airstrikes targeting rebel-held eastern Aleppo on Thursday killed 20 people and destroyed the Syrian city's main water pumping station, an activist with the opposition-aligned Aleppo Media Center (AMC) told CNN.
The military operation, conducted by Syrian forces, formally marks the end of a
short-lived ceasefire
that sought to quell violence, coordinate efforts to defeat ISIS and allow aid to enter the besieged city.
Syria's military announced the "start" of military operations in eastern Aleppo, warning residents to keep away from specific sites and centers of "armed terrorist groups," according to state-run news agency SANA.
"All of our information indicates clearly that this was an airstrike. That means there only could have been two entities responsible," US Deputy National Security Adviser Ben Rhodes said Tuesday, referring to Russia and Syria.
"We hold the Russian government responsible for airstrikes in this airspace given their commitment under the cessation of hostilities was to ground air operations where humanitarian assistance was flowing," Rhodes said.
Russia has denied carrying out the strike, instead charging that the convoy was hit by a "terrorists' pickup truck carrying a large-caliber mortar," according to Russian state news agency Tass.
A convoy of trucks carrying humanitarian aid did reach the besieged town of al-Muadamiyah in the Damascus countryside, a UN spokesperson told CNN on Thursday. It's an interagency humanitarian effort of the UN and SARC, carrying aid for 7,000 people, according to a tweet from the SARC.
Syrians in eastern Aleppo and other besieged cities and towns are facing a dire shortage of food, medicine and other supplies. The country's civil war, which is in its fifth year, has so far claimed the lives of more than 400,000 people and sparked a refugee crisis, according to the UN.
Read more: http://www.cnn.com/2016/09/22/middleeast/syria-airstrikes-eastern-aleppo/index.html