Bring some zing to your autumn cooking with a squeeze or three of citrus, be that in a bowl of pasta with smoked mussels or a comforting chicken biryani
I have a real thing for autumns apples and pears, though when Im cooking with them, I need regular fresh inspiration. Happily, almost as soon as these have lost their novelty, the citrus fruits come into their own. Lemons and limes are especially useful in cooking, adding a bright, vibrant zing to all sorts. This week, Im using lemons in a ridiculously simple pasta dish, and as the final flourish to an all-in-one biryani that never fails to comfort.
Linguine with smoked mussels, lemon and capers
This dish plays with textures and taste, from the crunchy, garlicky crumbs to the smoky mussels and sharp lemon. Serves four to six.
200g smoked mussels (drained weight)
The zest and juice of lemon
2 tbsp capers in brine, drained
Salt and freshly ground black pepper
200g dark sourdough bread (choose one with a good crust)
3 tbsp extra-virgin olive oil
1 large clove garlic, peeled and crushed
1 handful picked flat-leaf parsley, roughly chopped
400g linguine
In a bowl, combine the mussels, lemon juice and zest, and capers, season and put to one side.
Whizz the bread in a food processor for a few minutes, until you have a mixture of fine and chunky crumbs. Toss these in two tablespoons of oil, to coat, then season generously.
Heat a frying pan on a medium-high flame, then tip in the breadcrumbs and fry, tossing or stirring regularly, for seven to 10 minutes, until golden and crisp. Add the garlic after three or four minutes, so it fries a little and loses its raw flavour. Once the crumbs are golden, turn off the heat and stir in the parsley.
Bring a large pan of salted water to a boil and cook the linguine until al dente. Drain, then toss with the remaining glug of oil, the mussels, lemon, capers and a good grind of pepper. Serve at once topped with the toasted breadcrumbs.
Chicken biryani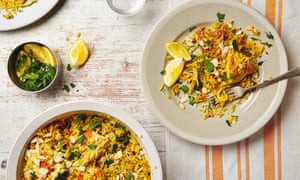 Read more: https://www.theguardian.com/lifeandstyle/2016/oct/21/linguine-smoked-mussels-lemon-chicken-biryani-recipes-thomasina-miers