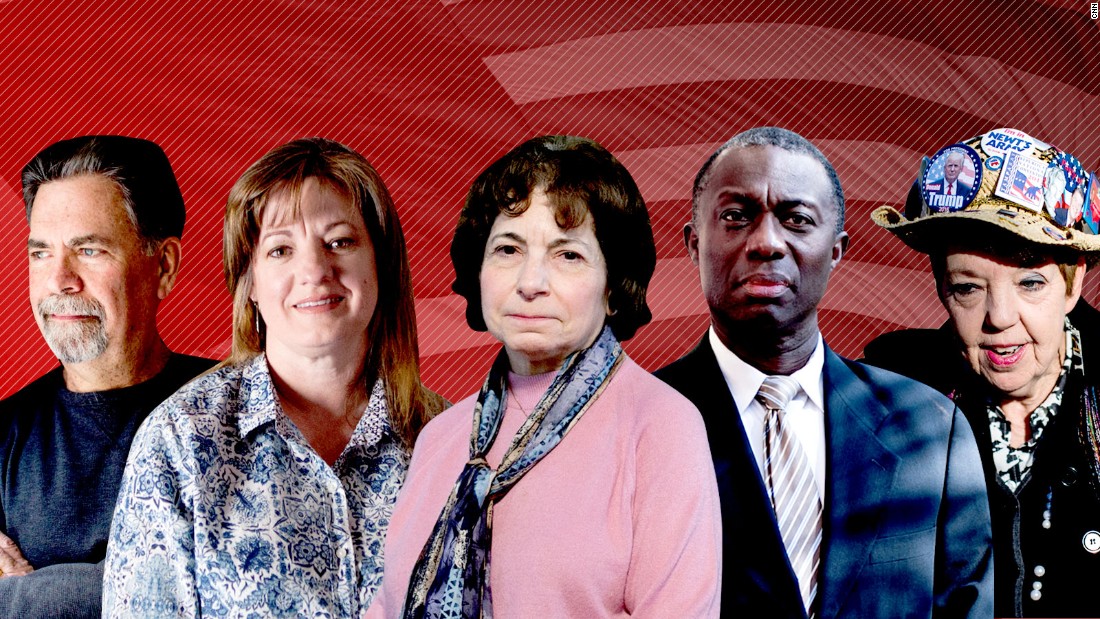 (CNN)In the beginning, they didn't care for Donald Trump.
"Trump's a buffoon," David Searles said before casting a vote for Marco Rubio in the New Hampshire primary.
"He scares me," Rebecca Meyer said before settling on Ben Carson in South Carolina's primary.
"He's not presidential," Gail Francioli said after backing Ohio Gov. John Kasich in that state's primary.
Yet like nearly nine out of 10 Republicans nationwide, Searles, Meyer and Francioli supported Trump in the general election. And like the vast majority of Republicans, they support him still.
In fact, these one-time-skeptics are part of the bulwark that is bolstering a President whose first month in office roiled the nation.
Consider Wendy Housel of Summerville, South Carolina. She was so distraught by her party's nominee that she cried in the voting booth. She cast a ballot for Trump anyway, and prayed it was the right thing to do.
Now? "So far, I've liked what I've seen," Housel said.
While reporting on the presidential campaign for CNN's book, "
Unprecedented: The Election That Changed Everything
," I interviewed voters in disparate regions of America. I attended rallies for all the major candidates, as well as both parties' conventions. Perhaps not surprisingly, given the size of the GOP field, most Republicans told me they didn't initially back Trump. Even some people who voted for him in the primaries did so only because their first and, at times, second choices had dropped out.
Trump's provocative comments about women and minorities — including assertions that Mexican immigrants were "rapists," that he could grab women's genitals with impunity and that African Americans had never been worse off than they were last year — along with his misrepresentation of facts and tendency to boast gave Democrats hope that significant numbers of Republicans, particularly women, would cross party lines and vote for Hillary Clinton. They did not.
When it came time to vote, Republicans were as loyal to their party as Democrats were to theirs. And now, they are standing solidly behind Trump, even as his approval rating is the lowest of any new president in modern times. Trump's 40% approval rating is 21 points below average for a president finishing his first month in office, while his 87% approval rating among Republicans is second only to that of George W. Bush among all GOP presidents elected in the last 65 years, Gallup reported Friday.
Put another way, a greater percentage of Republicans support Trump than backed Ronald Reagan after his first four weeks in the Oval Office.
I called a number of Republicans I met along the campaign trail to find out what they think of Trump now. Some bemoaned his blustery style. None disputed his policies.
The reason is simple: They agree with him.
'A breath of fresh air'
"I'm ecstatic! It's a breath of fresh air," Judy Griffin exclaimed when I asked her about the nascent Trump presidency. "The country was going on a near-death experience collision. Political correctness was about to strangle us all."
A 66-year-old from Woodstock, Georgia, Griffin began the campaign season supporting Wisconsin Gov. Scott Walker. She was such a big fan that she went to Wisconsin in 2012 to help Walker defeat a recall campaign. When he dropped out of the presidential race months before the first votes were cast, Griffin switched her allegiance to Rubio, the young senator from Florida. When I met her at the Republican National Convention in Cleveland — sporting a straw hat bedecked with GOP buttons dating back to Barry Goldwater — Griffin was fully committed to Trump, if for no other reason than he was, by then, the nominee.
"The only right thing to do was get behind the guy who won the race," she said.
Housel has undergone a few changes since we met at a Cruz event in Charleston, South Carolina, one year ago. At the time, she was uncertain how she would vote in the primary. She said she was leaning toward Cruz, but also liked Carson because "they're Christians, they both love America, they both respect America and they're pro-life." She gave the nod to Carson the following week.
Later in the year, General Mills laid off Housel and her entire military sales team, just as the youngest of her four children was starting college. In November, she cast her vote for Trump.
"I took my daughter to vote for the first time," Housel said recently, as she described her Election Day experience. "I'm crying. This is our candidate. This is what it's come to. I'm voting for the 'You're fired!' guy. I wondered whether I was making the right choice. I feel like I'm making the right choice, but it isn't what I originally wanted. I wanted someone who had been in the political realm, who had been in the military. Donald Trump is not in my grouping. He does not live in a house like I live in. I cried, but I just prayed that I was making the right decision, that our country was making the right decision.
"And then that night we stayed up and watched the results," she said. "It wasn't like a high-five kind of thing. It was more like when 9/11 happened — the heaviness of it. In the weeks after 9/11, when President Bush was talking, this was going to be a long haul. That's how I thought this was — this was going to be a long haul."
Housel is less nervous about her decision now.
"I don't have any red flags," she said last week. "I'm just seeing how it goes, hoping for the best."
Housel was comforted when she saw Trump interviewed with his family shortly after the election. "That Donald Trump I liked," she said. She was moved when he flew to Dover Air Force Base to receive the remains of a Navy SEAL killed in a raid in Yemen. She thinks he has a strong work ethic, as evidenced by his early meetings with several other heads of state. And she appreciated how Trump praised Gen. Michael Flynn, his former national security adviser, even as he fired him.
That Flynn's ouster came amid concerns about his interactions with Russia "wasn't high on my radar," Housel said, though she supports congressional investigations to make sure the government is "above board."
Like many Trump supporters, Housel is not troubled by negative news reports about Trump. In fact, she shares his assessment that journalists are not always honest (though she said she felt sheepish about saying that to an actual journalist).
"I was raised as a young girl not to trust the media," she said. Housel told me that her father, an Army veteran, offered this cold counsel: "If you're ever in a wartime situation, shoot the guy with the camera and then the enemy."
Housel also took to heart the admonitions of her husband, a retired Air Force life-support technician. When he was on active duty, she said, "something would happen and he called me and said, 'You're going to see something in the paper and it's not true, we didn't do what they said.'"
None of that is to say that Housel doesn't follow the news on CNN or in Newsweek. She just does so with a skeptical eye.
Neither does she take Trump's every pronouncement as Gospel. In some cases, she agrees with his appraisal of a problem, but not necessarily his prescribed solution.
For instance, Housel is concerned about illegal immigration, but "iffy" about Trump's proposal to build a wall on the Mexican border.
"I'm originally from Arizona. Arizona has been inundated with immigrants who are not wanting to abide by American rules. They want to just take," she said. "They are a drain on the system for many, many years. I don't like that. Come over, abide by our rules….They are allowed to get assistance like food stamps and housing assistance. They've been here for many years and they're able to go to college free. And I'm thinking, I'm paying for three kids to go to college." (Of course, plenty of immigrants support themselves, pay taxes and put their children through college.)
Trump has taken aim at sanctuary cities, and Housel agrees with him that protecting undocumented immigrants who have broken other laws is "un-American." Yet, she added: "If my neighbor was an undocumented immigrant, would I call to turn them in? I don't think I would."
Housel said Trump was "wise" to pause immigration from some countries. "I want to feel safer," she said.
She was displeased that federal courts blocked enforcement of Trump's travel ban. "Why would you ban that?" Housel asked. "Why would you go against the president?"
However, she is worried that he is too much of an isolationist.
Housel is less circumspect about Obamacare, and her desire for Trump to make good on his pledge to repeal and replace it. "As my kids phase out of our insurance, they're being fined for not having insurance," she said. "I don't agree with making insurance mandatory."
For the first time, Housel said, she and her husband voted for different candidates. Their adult children had divided loyalties as well. But now, she said, they're all rooting for Trump.
"I want his presidency to be remarkable," Housel said. "If you're in an airplane, you don't want the airplane to go down."
Read more: http://www.cnn.com/2017/02/21/politics/donald-trump-republican-support/index.html