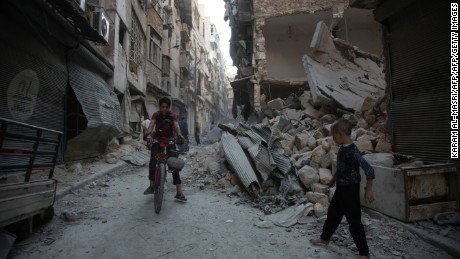 (CNN)A United Nations convoy carrying life-saving aid to 78,000 people was struck by warplanes in Syria Monday, a UN spokesman said.
The strike prompted a reaction of visceral anger from the international community, with officials from the UN and US saying they were "disgusted" and "outraged."
The UN estimates that 18 of 31 trucks in the aid convoy were hit.
A Syrian Arab Red Crescent warehouse was also hit, the UN said.
The Syrian Civil Defense, a volunteer EMS service, posted video of the aftermath of the attack on social media.
CNN cannot confirm its authenticity nor claims made in the video that the Syrian regime was responsible for the strikes.
The regime has not claimed responsibility for the airstrikes.
Twelve people involved in the aid delivery were killed, according to the Syrian Observatory for Human Rights, a UK-based organization that monitors the conflict in Syria.
At least 32 people in total were killed in strikes that hit Aleppo and its western suburbs, SOHR said.
The aid convoy and the warehouse were both in the area of Urum al-Kubra.
The violence comes just hours after Syrian authorities declared that a
fragile ceasefire
in the war-torn country is over.
Read more: http://www.cnn.com/2016/09/19/middleeast/syria-aid-convoys-attacked/index.html