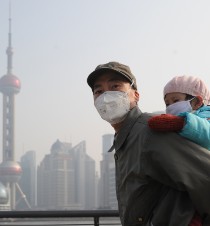 (CNN)UNICEF is calling on world leaders to reduce air pollution, saying it leads to the deaths of more children yearly than malaria and HIV/AIDS combined.
Around 600,000 children under age 5 die every year from diseases caused by or exacerbated by outdoor and indoor air pollution, especially in poor nations, UNICEF Executive Director Anthony Lake said in the introduction to a report titled "Clear the Air for Children."
Air pollution also hurts children it doesn't kill, including the unborn, he said.
"Pollutants don't only harm children's developing lungs, they can actually cross the blood-brain barrier and permanently damage their developing brains, and, thus, their futures. No society can afford to ignore air pollution."
Climate change conference
The satellite map doesn't take into account the dangers of indoor pollution, primarily a problem in lower-income, rural areas where people use solid fuels like coal and wood for cooking and heating.
More than 1 billion children live in homes where solid fuels are used in this way, UNICEF said. For example, 81% of rural households in India use this kind of fuel because it's cheap and easily available.
The study found a clear correlation between national income and the use of solid fuels in the home.
"Thailand — with a per capita income of US $5,816 — uses biomass to meet 23% of household energy needs, while the United Republic of Tanzania — with a per capita income of US $864 — uses biomass to meet 95% of household energy needs," the report said.
UNICEF is already working to distribute cleaner cookstoves in Bangladesh, Zimbabwe and other poor nations.
Fetuses endangered
Air pollution is an especially serious threat for children because their lungs and immune systems are developing, the report said.
Unborn children are also at risk. Studies show chronic exposure to high levels of particulate matter is associated with high rates of fetal loss, premature births and lower birthrates.
UNICEF stresses that reducing air pollution is more than a children's issue.
"Protecting children from air pollution is not only in their best interests; it is also in the best interests of their societies — a benefit realized in reduced health costs, in increased productivity, in a cleaner, safer environment, and thus, in more sustainable development," Lake said.
Read more: http://www.cnn.com/2016/10/30/health/air-pollution-children-unicef/index.html