Alan Yuhas fact-checked the statements of the vice-presidential nominees at the first presidential debate at Longwood University in Farmville, Virginia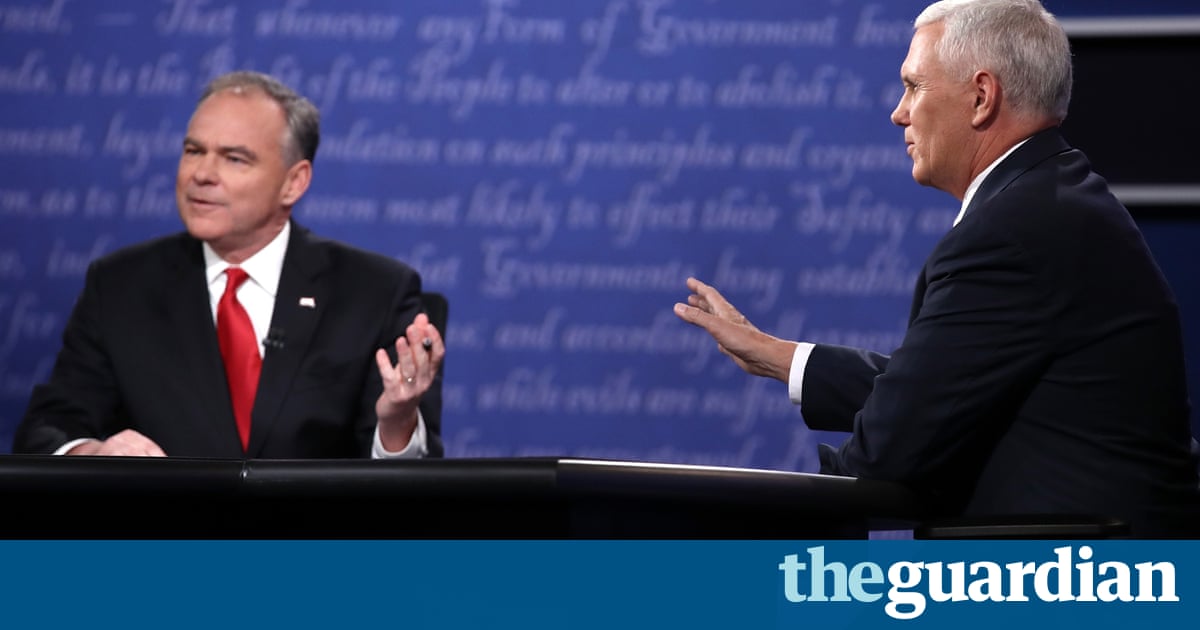 Mike Pence: Norwood University
In his opening statement, Pence misstated the name of the university hosting the debate. It is Longwood University, not Norwood.
He also said that Barack Obama has raised more taxes to extraordinary levels
This isnt quite right. There were two major changes to the tax code in Obamas two terms: the 2012 expiration of tax cuts created by George W Bush (with extensions for people making less than $400,000 a year), and levies to fund the Affordable Care Act (including a penalty for not having health insurance, a 10% tax on tanning services and a 3.8% tax on investment income for top earners).
Obama also enacted temporary cuts meant to spur investment and help Americans in the depths of the financial crisis, but all in all tax rates for most Americans have not changed much since Bushs presidency, according to a report by the nonpartisan congressional budget office. Under Bush, the top tax rate was 35%; under Obama, the wealthiest Americans pay 39.5%.
Pence: The Obama administration has stifled the economy
Obama took office in the depths of the 2008 financial crisis, and the economy has crawled back into recovery over his two terms, with employment nearly down to pre-crisis levels. Its arguable that his policies have restricted some growth, but the economy has held to a steadily upward track.
This summer the OECD gave its stamp of approval to the US economy, saying in a report: the US economy has rebounded: output has surpassed its pre-crisis peak by 10%, robust private-sector employment gains have sharply reduced unemployment, fiscal sustainability has been largely restored and corporate profits are high.
Pence: The Clinton Foundation accepted foreign donations while she was secretary of state She kept that pay-to-play process in
Pence is correct that the foundation took donations from foreign governments, and that the charity did not disclose every contribution in violation of an agreement to identify donors that it made with the Obama administration. But no one has yet produced evidence of a quid pro quo exchange between the Clinton Foundation and its donors.
Pence: It was a failure of the secretary of state to acquire a status of forces agreement with Iraq
The argument that Hillary Clintons failure to secure an agreement with Baghdad over keeping American troops in Iraq ignores several key facts, including that the Bush administration similarly failed. It also ignores that Isiss first segments formed out of the post-invasion civil war in Iraq, while Bush was president; that the group took root in Syrias civil war, where the US did not intervene until 2014; that Obama withdrew American forces in 2011 under the timeline agreed on by Bush and Baghdad. Pence also voted for the Iraq war, and unlike Clinton has not expressed regret for the vote.
Read more: https://www.theguardian.com/us-news/2016/oct/04/vice-president-debate-fact-check-mike-pence-tim-kaine