In the hands of New York fashion collective DIS, one of Europes biggest exhibitions is now a feeble blancmange of ads and avatars where is the art?
A recent newspaper cover of Die Zeit featured a wrenching story about the 880 refugees who, on a single week in May, went to their deaths in the Mediterranean. It contrasted the increasingly hardline politicians of EU nations, in particular the rising Alternative fr Deutschland party, with the rescuers who had to fish bodies from the sea with nets. It described a couple whose corpses were found arm in arm, and a baby with blue lips and shrivelled feet.
I read this story on the morning of the opening of the Berlin Biennale, whose main exhibition site features a juice bar, a giant cutout poster of Rihanna, and a poster reading: Why should fascists have all the fun?
Welcome to the LOL biennial. And brace yourselves. The reins of one of Europes most significant art showcases, now in its ninth edition, have been handed over to a New York fashion collective known as DIS, who have never put together an exhibition before. The DIS foursome Lauren Boyle, Solomon Chase, Marco Roso and David Toro dont aspire to be curators. Instead they manage an online magazine, photo service and other digital enterprises; celebrate the middlebrow and the ornery; and revel in sponsorships and branding opportunities that efface any distinction between creation and complicity.
And what they have produced, at this moment of political revanchism and humanitarian crisis, is an ultra-slick, ultra-sarcastic biennial, replete with ads, avatars, custom security guard uniforms, a manic social media presence disposed to hashtags like #BiennaleGlam, and a woman lip syncing to Trap Queen.
Stick with it across five sites an art academy, management school, Kunsthalle, private collection, and a tourist boat upholstered in fake fur and fire prints and you will find a few things to like. One of the strongest works in the show comes from Ccile B Evans, an American artist living between London and Berlin, whose immersive video installation What the Heart Wants offers a rare dose of ambition and seriousness.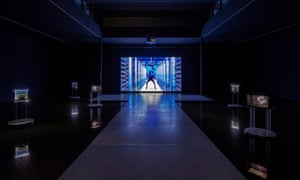 Read more: https://www.theguardian.com/artanddesign/2016/jun/13/berlin-biennale-exhibition-review-new-york-fashion-collective-dis-art