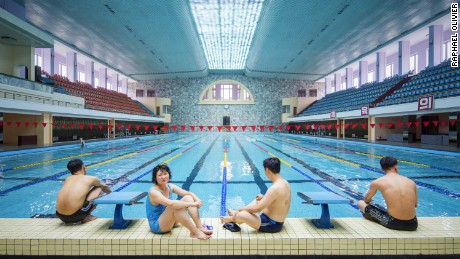 (CNN)French photographer Raphael Olivier is constantly in search of arresting visual stories — and travels far to see them in person.
Between commercial work, the Singapore-based photographer will often travel to far-flung or remote locations to produce personal photo series.
But this July, he turned his lens to a different country, visiting North Korea on an architecture tour organized by Beijing-based
Koryo Tours
.
It was definitely more rushed than other projects. The group was small and relaxed, only four people. We had 15 minutes to half an hour per site.
I would have liked to explore more neighborhoods but there's only so much you can do in a certain given time. There's no time to shoot on tripods. I couldn't have taken (photographs) on a film camera — this was a snapshot type of photo shoot.
In your personal projects — why are you drawn to more remote locations?
When you work commercially for six months, you need to get your head out of that. So I travel around, get fresh air.
For me, I'm more impressed by these type of places. Thailand by the beach is okay. But I think I will always look for visually unique places — ones with a very special vibe. Places where you can stand there and feel 'wow, this is amazing, what I'm seeing now?'
Read more: http://www.cnn.com/2016/08/14/architecture/pyongyang-architecture/index.html